Housebuilder says sales for the six months to December will be 15% up on 2019
Gleeson is predicting revenue growth despite the covid-19 crisis.
In a trading statement released ahead of its annual general meeting the housebuilder said it expected to record an increase in sales revenue for the half-year to 31 December of more than 15% compared with the same period last year.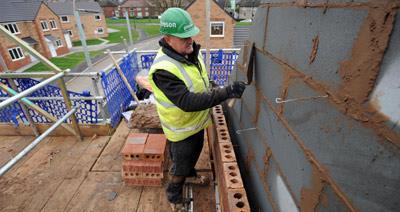 Dermot Gleeson, chairman, said: "Land continues to be available at sensible prices and the pipeline remains strong. Gleeson Homes has a land pipeline of 13,938 plots with a gross development value of £2bn, of which 7,298 plots are owned and 6,640 are conditionally purchased.
"The division currently has 80 active build sites, compared with 64 active build sites this time last year. We have opened 11 new build sites since the start of the financial year. We expect to open at least another 14 new build sites before the end of the financial year."
The firm said the average selling price on new reservations since the start of the financial year has been 9% higher than in the same period last year.
Gleeson said: "Overall, driven by the strong performance in Gleeson Homes and the encouraging level of activity in Gleeson Strategic Land, the board now expects the Group to deliver a result for the full year ahead of current expectations."
Gleeson said that while the board recognised the importance of dividend payments to shareholders, it would not confirm when the firm would do this.
He said: "In the light of our strong performance to date and the positive outlook, the board is minded to resume dividend payments during the course of 2021. However, any final decision will depend on the circumstances at the time."
Gleeson said build and sales activity at Gleeson Homes has returned to pre-covid levels.
He said: "During the second lockdown all our sites continued to build and sell efficiently within covid-secure protocols. We expect this to continue in the newly established three-tier system of restrictions."
The board also reaffirmed its target of delivering 2,000 units a year in the year to June 2022.