Housebuilder says trading for year to date is "in line with expectations"
Gleeson has reported a rise in net reservations for the first two months of its reporting year.
The £370m-turnover housebuilder, in a short trading update today, said its net reservation rates – meaning the rate of people signing up for new homes – was 0.47 per site per week for the nine weeks to 3 November, up from 0.43 for the same period the previous year.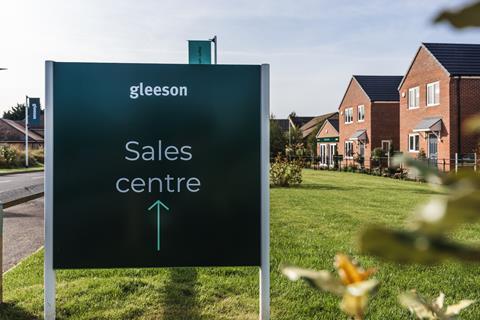 The housebuilder said trading is "in with market expectations" although did not specify what this means in terms of forecast profit. It said trading is in line with expectations it set out in an update in September, in which it said it expected to be building on between 80 and 85 sites and selling on between 60 and 65 sites by 30 June 2024.
Gleeson reported 43% drop in its pre-tax profit for the year to June 30 as "difficult market conditions" hit sales of both homes and development sites.
The low-cost housebuilder said pre-tax earnings fell to £31.5m from £55.5m in 2022 as turnover dropped by over 12% to £328m. The firm in February announced plans to 15% of its roles under a restructure.
>>See also: UK housebuilding recession: How much worse is it going to get?
Gleeson in October announced a new 'second-stepper' strategy to target older buyers in the face of the mortgage market crisis.
The Sheffield-based firm, which has traditionally targeted first-time buyers, has re-branded and tweaked its home designs to appeal to "second-steppers" - but denied trying to take the business "up-market".