Chief of staff to former PM says government's approach is "not consistent" with the levelling up agenda
The former chief of staff to Theresa May has become the latest prominent Tory to criticise plans for a new formula designed to set local housing targets, saying it is "non-consistent" with the government's "levelling up" agenda.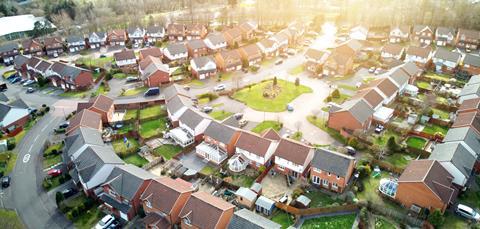 Former housing minister Lord Barwell, who was the last prime minister's chief adviser, told the Create Streets conference that the revised standard method for calculating housing need, published alongside the planning white paper in August, appeared likely to focus building on existing high demand areas at the expense of the north.
His intervention follows reports that a grouping of up to 70 Tory MPs are mobilising to force a government U-turn on the government's approach, which former minister Harriet Baldwin last week described as "Stalinist".
This comes after the Local Government Association last week launched a broadside against the plans, which it said would impose three-fold increases in housing numbers on some constituencies in the South east, while plans for new homes in northern regions would fall below current levels of delivery.
Lord Barwell (pictured, right, with Theresa May), who was Theresa May's chief of staff when the first version of a formula for calculating housing need was devised in 2017, said that the then prime minister had wrangled with the Treasury over the formula, with the department keen to concentrate housing numbers where demand was highest.
Barwell said: "If you follow that model, you are going to very heavily concentrate housing provision in London and the ring of local authorities immediately around London.
"Theresa's view was, 'hang on, my economic policy is all about trying to even up growth in this country, and provide better economic opportunities in the Midlands and the North, and surely housing policy should make a contribution to that.'"
He said the new formula, revealed in August, was "heavily back" in the Treasury's camp. He said this was interesting, "given politically how much the rhetoric of this government is so much about levelling up."
He said the new formula "was not consistent, I felt, with the government's overall policy message".
The LGA last week said that its modelling of the impact of the new formula showed that the requirement for homes would increase by 161% in greater London, 287% in Brighton and Hove, 294% in Dover and 194% in Tunbridge Wells. In comparison, proposed housing targets for the north east would be 28% lower than the amount already being built, while the equivalent figure for the North west is 8% and in Yorkshire and the Humber 6%.
In addition, the LGA said growth will tend to be focused in rural rather than urban locations, with average growth compared to current formula of 59% in rural councils, compared to a 20% increase in major urban areas.
Last week the I newspaper reported that senior conservatives were poised to "ambush" the Government with a series of backbench debates on planning reform in a bid to force a U-turn.
There have already been reports that the government is re-thinking its plans.
On September 15 West Worcestershire's Conservative MP, Harriet Baldwin, said she had written to housing secretary Robert Jenrick setting out her objections to the planned formula. She said: "I've always been opposed by the imposition of housing numbers handed down by central Government and I have strongly resisted this new 'Stalinist' approach.
"We're already building nearly 2,000 new homes each year, but I'm also extremely concerned that another mutant algorithm will lead to us being required to build thousands more houses."