Stewart Baseley calls housing secretary's comments 'extremely worrying' in leaked letter
The boss of the Home Builders' Federation has hit out at the housing secretary over comments, reported this week, in which he described housebuilders as operating in a "cartel".
Stewart Baseley, executive chair of the HBF, has written a letter to Michael Gove, which Housing Today has seen, in which he described the comments as "entirely unfounded" and "extremely worrying".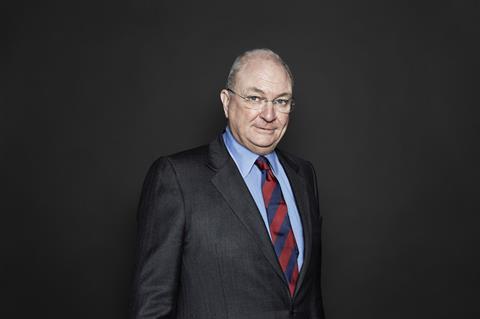 Baseley (pictured, left) said Gove's plan to get housebuilders to pay £4bn to resolve the fire safety crisis risked "a big drop in housing supply", and he called for a more "constructive tone" from the housing secretary in negotiations to find a resolution.
In the last few weeks Gove has threatened to stop developers who don't play ball from trading, and accused some of seeking "to profiteer from the consequences of the Grenfell tragedy".
Baseley's letter follows comments, reported in the Telegraph, which Gove allegedly made to the Conservative Environment Network, in which he described UK volume housebuilders as operating as "essentially" a "cartel".
According to the paper, Gove said: "There are 101 changes we want to make", adding that housebuilders weren't taking their environmental responsibilities seriously. "We've essentially got a cartel of volume housebuilders who operate in a particular way, and there are all sorts of unhappy consequences", he said.
Cartels are, technically, a form of illegal anti-competitive behaviour by businesses which can result in fines of up to 10% of annual turnover if proven.
>> See also: The true cost of Gove's new policy on the housing sector
>> See also: Gove's cladding remediation fund: What are the rights of housebuilders now?
A housebuilding industry source said there was "significant anger" about the latest comments, which come after Gove's call for the industry to pay£4bn for fire safety repairs to mid-rise buildings and threats to put housebuilders who don't contribute out of business.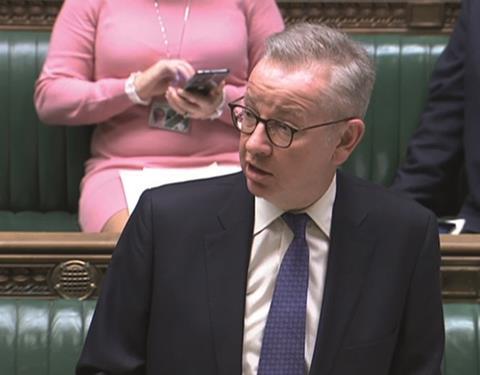 Gove (pictured, right) is understood to have so far refused to meet with housebuilders or their representatives since having been appointed secretary of state last September, with the exception of a single February meeting to kick start cladding negotiations. Housebuilder share prices fell by around a quarter in the first two months of the year, wiping £11bn off the value of the sector, with analysts putting much of the fall down to the uncertainty caused by the dispute with government.
In the leaked letter to Gove, Baseley said Gove's comments about a "cartel" were "entirely unfounded", and that the industry was "at the forefront of the country's drive towards Net Zero".
He said: "It is extremely worrying to hear a senior member of the government speaking so disparagingly about an industry responsible for maintaining around 800,000 jobs, generating around £40bn in economic activity annually and contributing around £7bn per year in wider community and infrastructure benefits through Section 106 agreements and Community Infrastructure Levy payments, funding new schools, health centres, open spaces and transport schemes."
He also said the government needed to be mindful of its own responsibility for the building safety crisis, and the potential consequences of harming the supply of homes by relying on the industry to pay for repairs.
"I understand you acknowledged at the same event that government has some responsibility for the building safety crisis given its role setting Building Regulations and overseeing product safety. The progress of the Grenfell Tower Inquiry is currently laying bare these responsibilities.
"As we look to achieve our mutual objective of ensuring leaseholders do not pay for fire safety remediation on their buildings, I do hope that a more constructive tone can be adopted. The proposals we are discussing provide a considerable challenge for individual companies and if we do not get them right, could result in a big drop in housing supply and indeed pose a threat to many companies' future."
Gove has called on housebuilders to sign up to his request they commit £4bn to pay for fire safety repairs by the end of this month, but it is not yet clear if a deal will be reached.
The HBF and the Department for Levelling Up, Housing and Communities have both been contacted for comment.