Housing secretary to 'expose and pursue' firms to remediate unsafe homes
Housing secretary Michael Gove told the House of Commons today he will "go after" any developers or building firms who are profiting from unsafe construction or refurbishment works.
"To those who mis-sold products like cladding or insulation, to those who cut corners to save cash as they developed or refurbished people's homes, to those who sought to profiteer from the consequences of the Grenfell tragedy, we are coming for you", Gove said.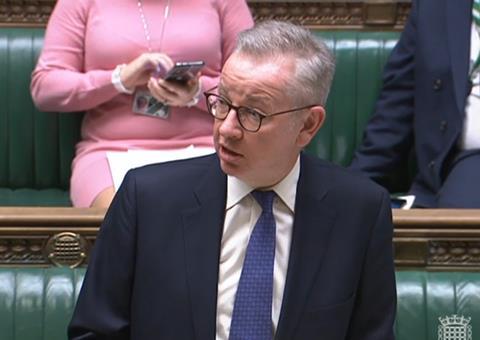 The secretary of state (pictured) said he had set up a team in the Levelling Up, Housing and Communities department that will "expose and pursue" developers who are not adhering to the Building Safety Programme, by paying to remediate unsafe homes.
He added there would be "commercial consequences for any company which is responsible for this crisis and is refusing to fix it".
This morning Gove demanded developers pay the £4bn cost of remediating unsafe cladding on tower blocks.
The housing secretary has today said the largest housebuilders have until early March to agree to contribute to a new fund to cover the cost of safety works on buildings 11 to 18 metres in height. This will replace a previously proposed loan scheme for leaseholders to cover the cost of these buildings.
He said he had been explicitly assured by the Treasury that he could use the threat of a £4bn new developer tariff - further to the £2bn Residential Property Developer Levy already set up - in order to bring housebuilders to the table.
But a spokesperson for the mayor of London Sadiq Khan: "Leaseholders living in buildings with non-cladding related defects will be deeply disappointed and distressed that today's announcement will do nothing for them, as they face eye-watering charges to make their homes safe."
Mike Robinson, chief executive of British Safety Council, said it was "right that the construction industry continues to play its part" but added that the Government should also "shoulder its own responsibilities." "We need to see all sides taking a positive and constructive approach to discussions between now and March," he advised.
Geeta Nanda, G15 chair and chief executive of MTVH, warned: "The focus on restoring proportionality to the system is crucial and we urgently need to see further details of how the government will achieve this in coordination with lenders and insurers." She said "today's announcements are not a complete solution for the wider building safety crisis."