Government department commissions British Standards Institution to create standard to raise quality of offsite homes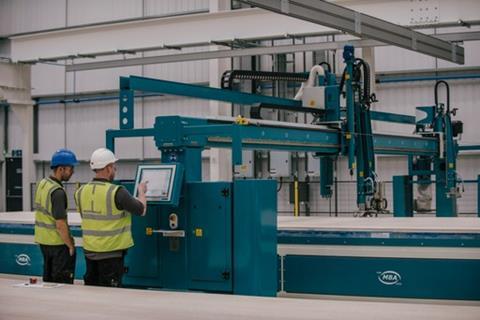 The government has commissioned the British Standards Institution to come up with a UK-wide standard for modern methods of construction homes.
The standard will see more high-quality MMC homes delivered, increasing the choice of homes and access to product warranties, insurance and mortgages, the Department for Levelling Up Housing and Communities (DLUHC) promised.
It said this will reduce the costs of prefabricated homes for housebuilders and consumers, as well as allowing developers to make better use of technology. DLUHC added it expected the standard to create a levelling playing field with traditional homebuilding, thereby encouraging a greater adoption of MMC.
Housing minister Lucy Frazer said: "We want to help homebuilding step into the future. This means embracing the latest technology to deliver more high quality, energy efficient homes for generations to come.
"Our work with the British Standards Institution and the wider industry will help to do just that - allowing more homebuilders to take up modern methods of construction, creating new jobs and homes across the country".
The institution, a national UK standards body that produces technical standards on a wide range of products, is running working groups with 30 industry stakeholders on 24, 25 and 31 January. Information and shared best practice from these working groups will inform the guidance that will set out the new requirements via a Publicly Available Specification for MMC.
Anthony Burd, head of built environment at the British Standards Institution, said: "As society's needs change and in light of the role all of us have to play on the road to net zero, improving levels of building safety and ensuring better design - Modern Methods of Construction will be key to meeting these future challenges.
"The standard will provide essential requirements and guidance for best practice in the residential building sector and much needed assurance for the growing off-site sector."
The specification will set out the recommended technical standards for building homes using a range of MMC categories. It will also define quality assurance and compliance processes for the sector.
Steve Cole, director of trade body Make UK Modular, said his organisation was "pleased to see the new housing minister recognise the importance of transforming the nation's house building industry so early in her tenure".
He added: "We welcome her commitment to embracing new technology and look forward to working with her and the DLUHC team to deliver 30,000 modular homes a year by 2030."
Some of the UK's biggest new home warranty providers agreed to develop a set of standards for MMC in 2020, which the government backed.