The new Warrington facility will build up to 1,500 homes a year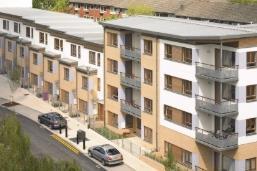 Countryside Properties said it expects to deliver 500 modular timber-framed homes this year after its factory in Warrington went into full production last month.
The housebuilder said the plant's production capacity would be up to 1,500 homes a year.
In a trading update ahead of the group reporting its half year results on 16 May chief executive Ian Sutcliffe said that with the factory now operational Countryside was in a good position to expand beyond its main locations of outer London, the south east, the north west of England, Yorkshire and the Midlands.
Thanks to last year's £135m acquisition of Westleigh, Countryside said it had ramped up house completions by 42% to 2,362. Excluding Westleigh this growth figure was a more conservative 8%.
Its private average selling price dipped 4% to £377,000, due to what Countryside said was an increased contribution from its regional businesses, following the Westleigh deal.
Westleigh boosted Countryside's partnerships division, which completed 1,889 homes, up 61%.
Housebuilding delivery was marginally down at 473 units from 483 a year ago.
Total completions for the year are forecast to be around 5,700 units.
Countryside also announced the resignation of Rebecca Worthington, its chief operating officer. It is understood the position is not being continued.