US investor Browning West launches campaign to oust chair and sell private housebuilding business
One of the largest shareholders in £1.4bn-turnover residential developer Countryside has called for the resignation of its chair after accusing it of suffering "deteriorating operating performance".
Shares in Countryside fell 4% in early trading following the extraordinary intervention of US-based activist investor Browning West, which owns 9.4% of the firm.
The call came as Browning West has launched a campaign to persuade Countryside to sell its traditional housebuilding business from its market-leading "partnerships" housing division, which builds homes for local authorities and housing associations.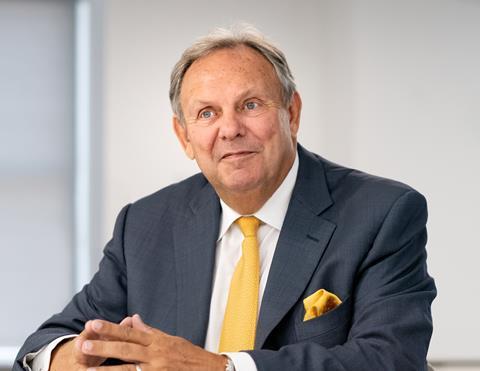 Browning West said chairman David Howell (pictured) was "weak" and needed replacing before Countryside could institute what it said were necessary reforms to improve the valuation of the company.
The call comes ahead of the scheduled publication of end of year results by the firm tomorrow, with Browning West alleging poor performance in its housebuilding activities has held back the value in the partnerships business.
Browning West today launched a website, including private correspondence between it and Countryside chair, setting out its case to separate the housebuilding and partnerships sides of the business. Under the banner "Let Partnerships Prosper", it is calling for Browning West chief investment officer Usman Nabi to be appointed to the board of Countryside to oversee the recruitment of a new chair to take the business forward.
Browning West said Countryside's continued focus on two different business models was undermining performance, alleging that while Countryside saw completions in its private sale business drop by 50% in the last quarter of the financial year, to 30 September, some of its competitors had managed to increase production.
It said it had gone public after attempting to resolve the matter in private, but that the firm suffered from "a weak Chairman", "poor alignment with shareholders", and "gaps in the Board's skillset." It said: "We have also unfortunately concluded that the Board is unwilling to work with one of its largest shareholders to address these critical deficiencies or consider the meaningful opportunities that have been presented by Browning West to significantly enhance shareholder value."
The firm also alleged, in a letter to David Howell published today, that Countryside has agreed the firm would benefit from a sale of the housebuilding business, but that it had not been attempted because market conditions weren't right.
In October Countryside said completions for the year to September would be down by around a third at its final results, given the impact of the covid pandemic, at just over 4,000 homes.
The figures showed that while completions in the housebuilding business had dropped by 36%, completions in the partnerships side of the business were down by just 27%.
It said it will report an adjusted operating profit of around £54m for the year.
Countryside said in a statement that it had noted the comments by Browning West, and said it would provide a comprehensive update to shareholders with the publication of results tomorrow. It said: "The Board remains focused on acting in the best interests of all our shareholders to maximise the value of the Company. We maintain an ongoing dialogue with our shareholders and listen carefully to the views they express."
Cenkos analyst Kevin Cammack said: "Management is already indicating that its strategy focus is in that direction but it will now presumably have to convince shareholders that there is intrinsic merit and interplay between the two divisional activities; which fundamentally I believe there are."
More to follow…