Plans drawn up by Lewisham residents and architect firm Archio gets planning nod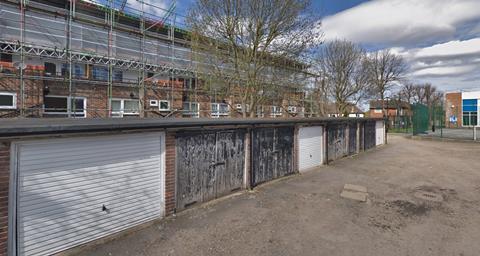 A local community which chose an architect to design nearly a dozen affordable homes in south east London has seen the plans approved by the local council.
Lewisham Citizens, a group of nine local community and faith groups, worked with Hackney-based architect Archio to come up with 11 "permanently affordable" homes on a small site previously occupied by disused garages (pictured above) on Carlton Terrace in Sydenham.
The homes will be part of a scheme developed by Lewisham mayor Damian Egan to collaborate with local people in order to deliver 200 community land trust homes over the next four years.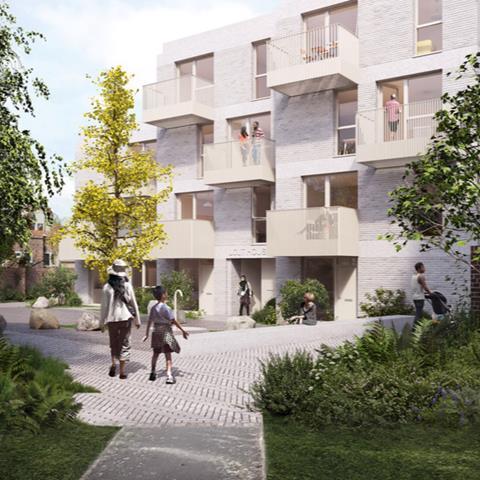 Work on the homes (pictured right) is due to start in the summer. Once built they will be sold at prices linked to local wages, meaning a one-bedroom home will go for £192,000 and a two-bedroom for £244,000, less than half the going rate for similar homes in the same area.
Would-be residents must be in a certain wage bracket and be able to prove they have "strong ties" with the local community to stand a chance of securing one of the homes.
When they want to sell their homes they will have to apply the same formula, so the price they realise will reflect local salaries, not the state of the housing market.
Janet Emmanuel, co-chair of Lewisham Citizens CLT and deputy head Sydenham School, said the scheme began with a Lewisham Citizens listening campaign discovering that affordable housing was the key issue.
"We then searched for empty sites, built relationships with local residents and organised our institutions to lobby the council. Once we had a site we worked with local residents to choose the architects and design the homes.
"I feel proud that this was genuine community engagement. We showed what we as a community are capable of when we truly work together."
Calum Green, co-director of the London Community Land Trust, said: "This is a great example of how communities can get together to build the affordable homes our city needs.
"It also shows that involving people in design almost always leads to a more thoughtful, considered building."