Housebuilder said it was on course to deliver £3bn of pre-tax profit in the five years to 2021
Berkeley Group has announced a 21% dip in annual pre-tax profit for the year to the end of April, but stressed the lower figure was part of a normalisation of the listed housebuilder's financial performance.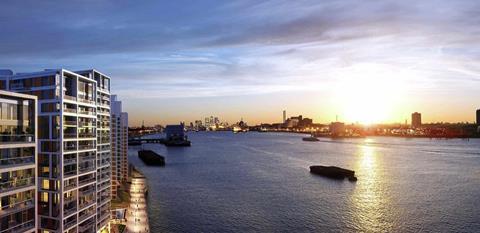 And the group said pre-tax profit was expected to fall by a further third this year but was well ahead of its aim to deliver £3bn in pre-tax profit in the five years to the end of the 2020/21 financial year.
Berkeley, currently developing schemes including Royal Arsenal Riverside in Greenwich (pictured), Woodberry Down in Finsbury and Kidbrooke Village, reported annual turnover of £2.96bn, up 4%, and operating profit of £768m. Pre-tax profit fell by more than a fifth to £775m.
In a statement accompanying the results, Berkeley said it had started the year anticipating that its profit for the 2019 financial year would be approximately 30% lower than 2017/18, "as the positive impact of the investment made at the end of the financial crisis reduced and profitability began to normalise.
"This is therefore a strong set of results, reflecting robust trading in the year and the appeal of Berkeley's developments," the statement added.
Berkeley said 3,698 new homes were sold over the year, similar to last year, at an average selling price of £748,000, up 4%.
The group said its land holdings including joint venture interests comprised of 54,955 plots at the end of the last financial year, up 17%. The plots in the land bank had an estimated future gross margin of £6.23bn, up from £6bn last year.
In a reference to the ongoing uncertainty around Brexit, Berkeley said the increasing property tax burden since 2014 and a "complicated, costly and bureaucratic planning system" meant it was unsurprising that both demand and supply were currently limited.
"Businesses are used to, and indeed thrive on changing economic and commercial conditions but they do need a supportive and stable political and regulatory environment to invest with confidence and stimulate growth," it said.
Pointing to net cash of nearly £1bn, forward sales of £1.8bn and an estimated £6.2bn of gross profit in its land holdings, the group said that "like all responsible businesses who operate in cyclical markets, we have been, and will remain cautious in our investment in this environment, and this will determine the speed with which we deliver the value from our assets and invest in new opportunities".
Berkeley also revealed its remuneration committee was consulting with shareholders over a new three-year remuneration policy that it will put to the firm's next AGM in September.