Housebuilder to overhaul estate for Riverside housing association
Bellway and the Riverside housing association have signed contracts to redevelop a housing estate in Camberwell, south London, after residents supported the overhaul in a tenant ballot.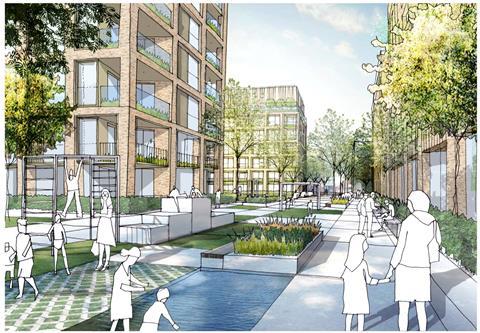 Liverpool-based Riverside, which manages 56,000 homes across England and Scotland, chose Bellway to work on the scheme in March last year, since when the pair have been working with residents on plans to replace homes in three locations: Canterbury Close, Geoffrey Close and York Close.
The proposed 400-homes development was one of the first to go through the mandatory GLA Tenant Ballot for regeneration schemes, resulting in what Bellway's new London Partnerships division said was a "strong positive vote on a high turn out".
Plans will be submitted to Lambeth council early next year, and assuming these get the go-ahead work will start in early 2021.
Existing tenants will be rehoused on the development once it is completed.
Riverside's chief financial officer Cris McGuinness said tenant engagement had been central to his group's plans to regenerate its estates in London.
"The strong support shown for the development proposals in the tenant ballot was recognition of our approach," he added.
Announcing its full-year results last week, Bellway said its London Partnerships operation, which launched in February this year, had performed well, but the housebuilder added it planned to downsize the proportion of 'for-sale' homes it built in the capital in the foreseeable future, noting "the positive availability of good quality land at attractive returns elsewhere in the country".