Housebuilding giant says it is first to have environmental targets ratified by Science Based Targets Initiative
Barratt has had plans to green its business officially recognised as meeting UN climate change targets.
The UK's biggest housebuilder said its plans, which include turning the business "net zero" by 2040, had been approved by the Science Based Targets Initiative as in line with commitments to keep the world to within 1.5% of warming.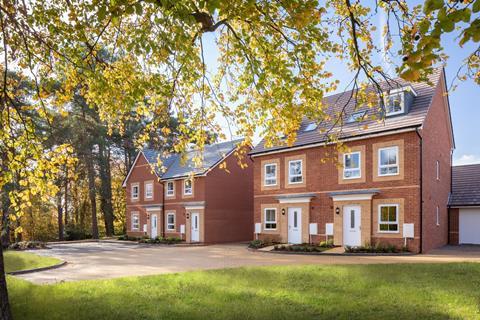 Barratt said it was the first volume housebuilder to have its climate change commitments ratified by the Science Based Targets Initiative.
In June Barratt set out plans to reduce greenhouse gas emissions from its operations to net zero by 2040, as well as deliver all homes to a net zero standard by 2030.
The firm has said it will purchase 100% renewable electricity by 2025, and cut carbon emissions from its offices and building sites by 29% in five years. Indirect emissions – those coming from its homes and its supply chain – will reduce by 24% by 2030, the firm said.
The Science Based Targets Initiative is a partnership of bodies, including an arm of the United Nations, the World Resources Institute and the World Wide Fund for Nature, set up to ensure that the environmental commitments made by businesses are backed by sound climate science.
Nearly 1,000 companies are working with the body, with nearly 500 worldwide having had their plans approved, including UK firms such as the Co-op, Tesco and contractor Morgan Sindall.
Bukky Bird, group sustainability director at Barratt, said: "We are committed to playing our part in the UK's green recovery and are delighted that our science-based targets have been approved. We believe every business needs to take responsibility to tackle climate change and we will continue to work with all our stakeholders to safeguard the environment."
While Barratt claims to be the first housebuilder to have achieved approval by the Science Based Targets Initiative, it is not alone in having made bold environmental pledges. In June L&G committed to make its homes net zero by 2030, while modular housebuilder Etopia had its business operations officially declared "carbon neutral" by the One Carbon World body in August.
In June Barratt, First Base and Joseph Homes were among signatories to a letter to prime minister Boris Johnson, published in the Financial Times, urging him to use the covid crisis as an opportunity to build a green economy.
The government has committed to bringing forward regulations forcing all new homes to be "zero carbon ready" by 2025, meaning the houses will operate without giving off any carbon emissions once the electricity grid is fully powered by non-fossil fuels.
This equates to emissions 75-80% below those of homes built to existing regulations.
However, the government's plans have been harshly criticised by the Committee on Climate Change, which has called for the government to set up a national retrofit programme and a plan for genuine zero carbon homes.