Homes England to use deals signed under new £11.5bn Affordable Housing Programme to promote off-site build
Housing associations looking to sign lucrative "strategic partnership" deals with Homes England to build large numbers of affordable homes will have to commit to using modern methods of construction to build out at least 25% of their pipeline.
Housing secretary Robert Jenrick said he was making modern methods of construction (MMC) "central" to the government's new affordable homes programme in order to deliver "better and more sustainable homes".
Details of the government's bidding criteria for the majority of its five-year £11.5bn affordable housebuilding programme (AHP), published yesterday, make clear that those getting the largest shares of government funding will have to commit to delivering government priorities such as MMC.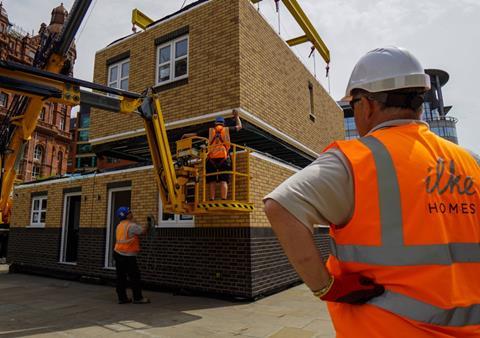 The details were set out in information aimed at those considering bidding for the £7.5bn share of the affordable homes programme which is to be spent outside London, and which is being administered by national housing quango Homes England.
The new bidding guidance said that all allocations of funding will place "significant focus on" investment in MMC techniques, such as offsite and modular construction, the promotion of which is one of Homes England's key strategic priorities.
In addition, it said that multi-year "strategic partnership" deals, such as those previously signed with the likes of L&Q, Sovereign, Hyde and Home Group, will require the partners to adopt "at least 25% MMC" within their programme, as well as "use […] their expertise to help build capacity for development within the sector."
Other priorities that bidders to the funding will be expected to prioritise are use of the National Design Guide, improving energy efficiency, and using SME contractors.
As announced by Robert Jenrick earlier this week, the bidding details confirmed that around half of the funding will be expected to go towards homes for affordable home ownership, with around half for discounted rent. The government will fund the cheapest "social rent" products in areas of "high affordability challenge", but will only do so elsewhere if the grant required is no higher than necessary for more expensive rented homes.
In addition, the details make clear than 10% of the programme will go towards supported housing, and 10% of the programme will have to be directed to build homes in rural settlements of less than 3,000 people.
Addressing the Chartered Institute of Housing's annual conference yesterday, Robert Jenrick said the focus on MMC was designed to deliver "better, and more sustainable" homes across the country. He said: "That's why […] we've set a minimum target for the use of MMC in the programme, and we're going to review that annually and increase it if market conditions allow.
"We want the UK to be a world leader in MMC, creating new jobs, better skills and faster delivery of homes."
Housing associations wanting to bid for funding under the affordable homes programme will have two routes to do so – either individual applications for individual schemes, under Homes England's Continuous Market Engagement programme, or signing up to a long-term Strategic Partnership.
Continuous Market Engagement will only continue for as long as funds remain available, and schemes must be completed by March 2026. However, under strategic partnerhips, housing associations have long term certainty over funding which can be flexibly deployed to schemes as they see fit, and two years longer to deliver the homes.
Under the last affordable homes programme, Homes England signed £1bn of strategic partnerships with providers, with individual deals running in excess of £100m.
All of these details only apply to Homes England's programme outside of London. The government is still in discussion with London's Labour mayor, Sadiq Khan about how the £4bn allocated for the capital over the next five years will be spent. Khan has previously campaigned for the government to provide almost £5bn in funding every year to meet the need for affordable homes in London.
Mark Farmer, founder of consultant Cast, and the government's MMC champion, said the Affordable Homes Programme announcement marked a significant step up in the level of intervention from government on MMC, and that he expected to see further announcements along similar lines in the near future.
He said: "Government has a range of related objectives linked to carbon, quality, safety, affordability, planning reform, levelling up and market diversification. MMC is one of the only levers that Government can pull that enables or supports all of these outcomes in some way provided it is done well and in a considered manner.
"The MMC market is still immature and there is a need for a complex range of inter-connected measures to be implemented to ensure that any MMC led transformation is sustainable and does not lead to inadvertent consequences."
Dave Sheridan, executive chairman at moular housebuider ilke Homes, welcomed the news. He said: "There is an urgent need to diversify the supply of affordable housing across the UK if the industry is to speed up delivery and reduce its carbon footprint.
"It's great to see Homes England continuing to beat the drum for modular. Savills has already predicted that the proportion of homes delivered using modern methods could double to 20 percent in the next decade and this announcement will certainly act as a catalyst to achieving this."