The new affordable homes programme starts in 2021
About 180,000 new homes will be built under the new affordable homes programme starting next year, housing secretary Robert Jenrick announced today.
The government will spend £11.5bn on the five-year initiative between 2021 and 2026.
Half of the new homes will be made available for ownership, with the rest for affordable and social rent - including 10% for supported housing.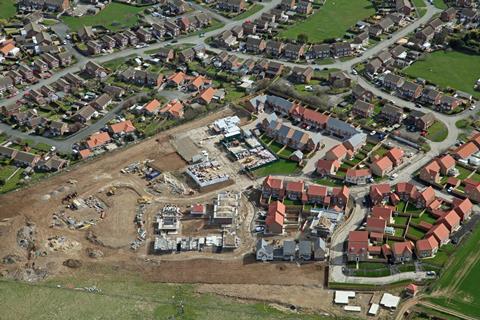 The £11.5bn investment includes £9.5bn of new money and a £2bn spending round announced by former prime minister Theresa May.
Some £7.5bn will be spent on new homes outside London.
Details of the scheme will be revealed this week, when Homes England releases its prospectus inviting councils, housing associations and private providers to start preparing their bids.
Jenrick said: "Today's announcement represents the highest single funding commitment to affordable housing in a decade and is part of our comprehensive plans to build back better.
"This government is helping hard-working families and prospective first-time buyers get their feet on the housing ladder in an affordable way."
The housing secretary also outlined changes to the shared ownership scheme, by slashing the minimum share people can buy from 25% to 10%.
In addition, people will be able to buy extra shares in their home in 1% increments, with heavily reduced fees, and there will be a 10-year period for new shared owners where the landlord will cover the cost of any repairs and maintenance.
A right to shared ownership will also be available on the "vast majority" of new homes that will be built for rent, "providing tenants with a pathway into ownership by giving them the right to purchase a stake in their home."
The new programme falls far short of recent demands from the housing and local government select committee that the government build 90,000 homes a year for social rent.
The Ministry of Housing, Communities and Local Government did not respond when asked by Housing Today how many of the 180,000 new homes would be available for social rent.
Responding to today's announcement, Polly Neate, chief executive of Shelter, called on the government to "invest more in social housing than its current plans allow for" in order to tackle "a housing emergency about to spin out of control".
Discounted home ownership schemes are not genuinely affordable, she added.
Kate Henderson, chief executive at the National Housing Federation, said: "With the critical need for decent affordable homes further exacerbated by the coronavirus crisis, it is welcome that the government has announced a funding programme that includes money for social rent.
"These are the most affordable type of homes for people, typically 50% of market rent."
David Montague, group chief executive at L&Q, welcomed the government's "commitment to all affordable tenures in today's announcement, especially the renewed interest in social housing."
But he added: "We will need to see the detail of today's announcement to understand how some aspects will work in practice."
And David Renard, the Local Government Association's housing spokesman, said: "With more than one million households on council housing waiting lists, it is vital that we build more housing for social rent and we look forward to seeing more clarity around how this will be delivered."
In addition to the new affordable homes programme, a consultation is also being launched today to look at raising accessibility standards for all new homes to cater for the needs of older and disabled people.
Proposals include having a living area and step-free access to all rooms at entrance level, wider doorways and stairs designed to allow easy fit of a stair lift.