Housebuilder says it will 'return to the drawing board' and create 'collaborative' new scheme
Housebuilder Weston Homes has abandoned plans for a costly legal challenge against Robert Jenrick's decision to refuse planning permission for its controversial 1,200-home Anglia Square scheme in Norwich.
Last November Weston immediately vowed to take the government to court after the secretary of state turned down the £271m scheme on quality and size grounds, against the advice of the planning inspector.
The developer, which is promoting the scheme in partnership with Columbia Threadneedle Investments, subsequently filed legal papers in December.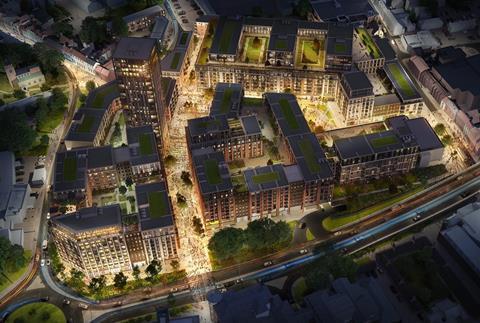 Campaigners against the Broadway Malyan-designed scheme said the city centre redevelopment project, which included a 20-storey tower, would do irreparable damage to the city's mediaeval core.
Weston Homes said today that it would drop its legal challenge and "return to the drawing board" to develop new proposals that reflected the objections made by heritage bodies, including Historic England.
The firm said it will now "agree a collaborative solution for the future of Anglia Square", and spend the next few months in dialogue with housing quango Homes England, the city council and other stakeholders.
Bob Weston, chairman and chief executive of Weston Homes, said the firm remained committed to developing the site. He said: "For this to be successful we need to be aligned with key stakeholders such as Historic England and others who like us are passionate about the site and Norwich.
"We are looking forward to working in friendly collaboration with everyone to create fresh proposals for this challenging site to get the best possible solution for everyone."
This marks an about turn for Weston, who last December decried Jenrick's decision "to refuse a massive investment opportunity for the city", saying it "flies in the face of government policy on housing delivery and encouraging brownfield land regeneration in order to protect the greenbelt."
The original scheme for the low-rise Cathedral city included more than 1,500 car parking spaces, in blocks of 6 to 12 storeys, centring on a 20 storey tower.
James Rigg, chief investment officer of UK Real Estate at Columbia Threadneedle Investments said it will now look to "devise proposals that meet the aspirations of the community."
It is not clear whether Weston and Columbia Threadneedle will retain their original designer, Broadway Malyan, or look to bring in a fresh architect.
Heritage body Historic England has already commissioned architect Ash Sakula to draw up an alternative scheme for the site, which would provide 595 homes built around traditional streets and low-rise terraces.
At the time of Jenrick's refusal heritage campaign group Save Britain's Heritage urged the scheme's promoters to look at alternatives for the site, including "the excellent scheme by Ash Sakula Architects".
Marcus Binney, executive president of Save at the time hailed the refusal, saying Jenrick had "repelled the vandals at the city gate" and spared Norwich "the most monstrous carbuncle."
Asked if it intended to hire new architects, Weston Homes said it would listen to feedback from all stakeholders before launching a "review of who will be used to create a future scheme".
Responding to today's news Henrietta Billings, director of Save Britain's Heritage, said she saluted the decision by Weston to "listen to our concerns and those of the local community, Historic England and the secretary of state."
"Save looks forward to seeing more appropriate, much lower-scale plans coming forward, that fit with the grain and character of Norwich as a magnificent historic city," she said.