Town centre development of 1,200 homes turned down against advice of inspector
The housebuilder behind the £271m proposal for 1,200 homes and a 20-storey tower in the centre of Norwich has vowed to appeal after the communities secretary kicked it out.
Robert Jenrick on Friday overruled his planning inspector to reject Weston Homes' highly controversial Anglia Square proposals, which protestors have been fighting for three years.
Jenrick said he based his decision on the proposal's "excessive size in relation to its context" and his belief the scheme "does not demonstrate the exceptional quality required by policy".
Weston immediately vowed to take him to the High Court seeking a statutory review under section 288 of the Town and Country Planning Act 1990.
It issued a statement saying it was "currently taking the highest legal advice available" and accused Jenrick of overturning local democracy, given that Norwich council had previously approved the scheme, designed by architect Broadway Malyan.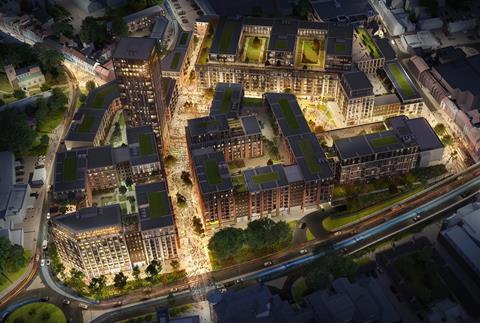 Norwich council approved the plans in 2018 before protestors secured a public inquiry arguing the scheme would do lasting damage to Norwich's medieval core. Planning inspector David Prentis supported the council's decision.
Marcus Binney, executive president of Save Britain's Heritage, which fought the scheme with Historic England and local groups, hailed the decision saying: "The secretary of state has repelled the vandals at the city gate. Norwich has been spared the most monstrous carbuncle that ever threatened to deface an English cathedral city.
"The promoters of this scheme, the city council, Columbia Threadneedle and Weston Homes, must now look at alternatives, notably the excellent scheme by Ash Sakula Architects commissioned by Historic England."
Ash Sakula's proposal would provide 595 homes built around traditional streets and low-rise terraces.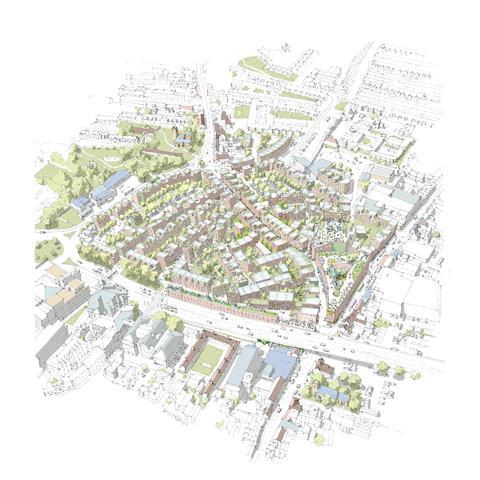 The Anglia Square proposal, for 1,200 homes, a hotel, cinema, multi-storey car parks, a place of worship and ground-floor retail and commercial space, was intended for a central shopping centre site incorporating the brutalist Sovereign House development.
It sits in the City Centre Conservation Area and is surrounded by a number of grade I and II listed buildings.
Binney added: "The city council must also note Mr Jenrick's concern at the number of single-aspect flats being proposed [in the Broadway Malan scheme] – this is rabbit hutch housing that is completely unacceptable."
But Weston Homes chief executive Bob Weston hit back, branding Jenrick's decision "undemocratic and commercially unjustified" and accused him of siding with "the NIMBY brigade who would rather see Norwich city centre die than support a future for the city's economy".
He added: "How does our prime minister Boris Johnson, who is very vocal that housebuilders need to 'build, build, build' in order to hit the government's housing delivery target of 300,000 homes, justify his housing minister's anti-urban-renewal and anti-housebuilder decision? I thought our PM liked to position himself as Boz-the-Builder. Instead his short-sighted housing minister is setting the PM up as the enemy of the housebuilding industry.
"The message it sends out to all housebuilders is – 'don't invest, don't make planning applications, don't plan for the future because this Conservative government doesn't support housing or the economy."
He said his firm remained committed to Anglia Square but warned the decision jeopardised £15m of government Housing Infrastructure Fund (HIF) money already allocated to accelerate development on the site.
Henrietta Billings, director of Save, said the decision provided "a huge opportunity for a more enlightened development approach to now come forward".