Student housing and build to rent developer reports revenue up more than a fifth
Developer Watkin Jones has seen its pre-tax profit double in results for the year to 30 September.
The student and rental housing developer said it made a pre-tax profit of £51.1m, double the £25.3m reported last year, on turnover of £430m, up 22%.
The profit figure is compared with the covid hit 2020 results, in which the firm recorded an exceptional £20.5m of pandemic lockdown and cladding repair costs. Accounting for that, the firm said the "underlying" pre-tax profit of the business increased by 12% in the year.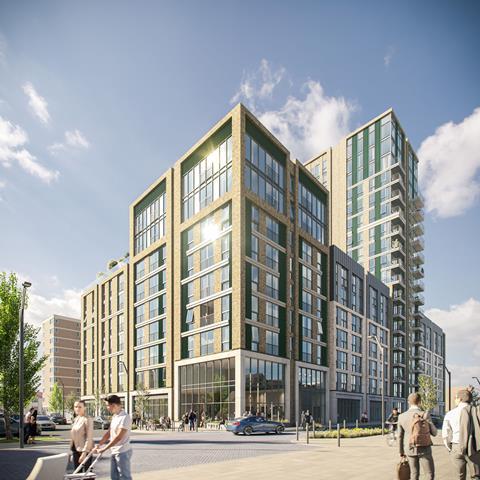 The developer primarily builds apartments and student blocks under forward sale agreements to landlords or institutional investors, with three build to schemes and nine student housing scheme sold in the year. Watkin Jones said its growth in revenue reflected a "strengthening institutional investor forward sales market".
The business also said its development pipeline had hit £1.8bn, 20% above that seen at the same time last year, with work progressing on 13 developments. Watkin Jones has plans in its pipeline for 4,000 build to rent homes, and 7,800 student beds.
The firm said trading so far in the new financial year was in line with expectations, with one further scheme sold in the new financial year, for £47m.
The firm said it supported the Michael Gove's recent decision to ask housebuilders to contribute £4bn to repair medium rise blocks affected by the fire safety crisis, however it said it was "engaging with the Government to clarify its plans in this regard and to confirm whether pro-active remediation will be taken into account"
Watkin Jones set aside £15m in 2020 to pay for repairs to buildings previously developed by the firm.
Richard Simpson, chief executive officer of Watkin Jones, said it was a "very strong set of results".
He said: "WJ has once again demonstrated its end-to-end development capability. As well as handing over 12 schemes on time, we leveraged our excellent institutional relationships to drive the forward sale of some 3,800 beds and continued to enhance the depth and quality of our development pipeline, securing good visibility of future earnings.
"Since the year end, we have continued this excellent momentum across the business with increasingly strong investor appetite for residential for rent homes."