Housebuilder 'firmly on track' to generate £1bn in partnerships revenue in 2022
Vistry Group has more than trebled its pre-tax profit and boosted turnover 30%, driven by an increase in completions and a focus on mixed tenure development through its partnerships arm.
The housebuilder reported pre-tax profit of £319.5m in the year to 31 December 2021, a 224% increase on the £98.7m posted the previous calendar year, which was impacted by covid-19 lockdowns. Once adjusted for excepotional items profit increased 140% to £346m.
The group said it had "an excellent year, successfully delivering on its strategy of rapidly growing higher margin mixed tenure development revenues".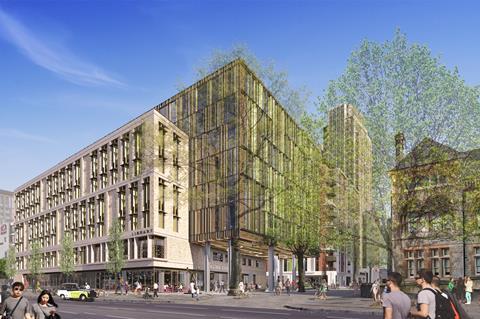 Vistry also gave its backing to the Homes Builders Federation's proposed compromise on cladding remediation costs for blocks 11m to 18m in height. It has estimated its costs of remediating blocks in line with the HBF's plan would be between £35m and £50m. However, housing secretary Michael Gove has urged housebuilders to go further.
Vistry, formed following the acquisition by Bovis Homes of Galliford Try's partnerships and Linden Homes businesses in 2020, reported an increase in total revenue from £1.8bn to £2.4bn.
Its housebuilding business increased its completions by 41% to 6,551, joint venture completions jumped 57% to 1,287 while private completions rose 4,891. Its adjusted turnover from its housebuilding arm increased from £1.3bn to £1.82bn. Vistry said its adjusted gross margin increased to 22.3% from 17.6% and it is on track to meet a margin target of 23% this year and 25% in 2025.
Vistry's overall selling price remained stable at £305,000 compared with £303,000, but this was due to affordable homes making up 25% of completions, up from 21%. Private selling prices increased 3.8% to £356,000.
Vistry said its partnerships arm had an "excellent year", delivering on its strategy of "rapidly growing higher margin mixed-tenure development revenues.
See also>> Housing Today's top 35 housebuilders: exclusive data and analysis
Its mixed tenure completions increased by 41% to 2,088, including a 49% increase in joint venture completions. The average selling price of mixed tenure units in the year was £237,000 up from £204,000 which helped push mixed tenure revenue up from £329m to £396m. It said it is "firmly on track" to hit partnerships revenue of £1bn in 2022 as it increased its active mixed-tenure sites from an average of 33 to 40.
Vistry said the step up in build activity across the industry had led to pressure on its materials supply chain in 2021, resulting in extended lead teams and inflationary pressures on some products.
It said it has managed this through supply agreements. In its partnerships business, where it is less able to benefit from house price inflation offsetting cost, it has looked to fixe prices and link future revenues to a build cost index.
Greg Fitzgerald, chief executive of Vistry, said: "Notwithstanding the shocking events in Europe and the attendant political uncertainties, 2022 has got off to an incredibly positive start and the Group is in great shape to deliver on its strategy of maximising the strengths and opportunities from the valuable combination of our housebuilding and partnerships businesses, and on achieving sector leading returns in the medium term."