Government-commissioned Blanc review finds major problems in flood-prone areas
Tens of thousands of homes at risk of flooding might not have the insurance cover they need, a government-commissioned review has concluded.
The Blanc review of flood insurance looked in detail at the situation in south Yorkshire following devastating floods last year around Fishlake and Doncaster, which struck 760 homes and businesses causing £150m of damage.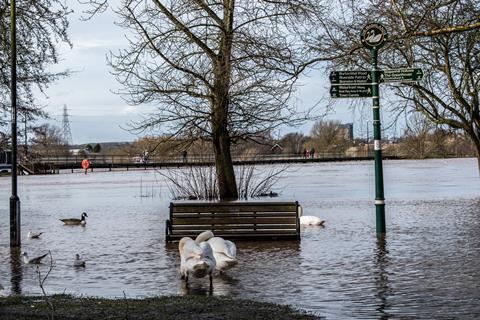 The review was commissioned in the wake of growing concern that thousands of new-build homes in flood-risk areas may be unable to access flood insurance because of an exemption for post 2009 homes in the government's 2016 deal with the insurance industry, called Flood Re. Around 70,000 homes have been built in flood-risk areas since 2009, according to think tank Bright Blue.
The review by Amanda Blanc, since appointed chief executive of insurer Aviva, found that while the vast majority of homes affected by the floods did have insurance, 6% of the policies did not cover flood damage.
This is despite the fact that, under the Flood Re agreement, insurers are duty bound to offer insurance at normal terms to properties in flood risk areas if they are built before 2009.
Blanc's report said: "If replicated across the country, this could mean tens of thousands of vulnerable households who are unnecessarily unprotected against flooding and missing out on the support that has been set up to help them."
She said it was unclear why exactly homes had flood risk exclusions, but said there was evidence that some insurance brokers were unable to access policies backed by the Flood Re scheme.
However, Blanc's report found no evidence of homes built since 2009 being disproportionately affected. In fact, her study found that just 18 affected properties had been built since 2009, all of which had flood insurance.
Blanc said insurers should be obliged to offer flood risk cover to people in flood-risk areas where eligible for the Flood Re scheme.
Earlier this year James Bevan, chief executive of the Environment Agency, called on the government to introduce regulations to ensure that any homes built in flood-risk areas were flood-proof.
RIBA director of policy Andrew Forth told Housing Today in February that there was a "fundamental need for a complete re-evaluation of building regulations" in flood-prone areas, with the government having failed to implement a five-point list of recommendations to reduce the impact of flooding.
James Dalton, director of general insurance policy at the Association of British Insurers, welcomed the recommendations of the Blanc review, saying the industry had paid out £150m against over 4,000 claims following the floods.
He said: "We are committed to working together with the community, Government, the British Insurance Brokers' Association and Flood Re to implement these recommendations in full."
Barnsley East MP Stephanie Peacock said on Twitter that the Blanc review showed that "too many" Doncaster households had inadequate flood insurance cover.
"The government needs to take urgent action to protect the tens of thousands of households across the country that are at risk this winter," she added.