Spring statement also removes VAT from installation of domestic solar panels and wind turbines
Chancellor Rishi Sunak has set out plans to bring forward a business rates exemption for companies investing in green technology, such as solar panels and battery storage, in his Spring Statement.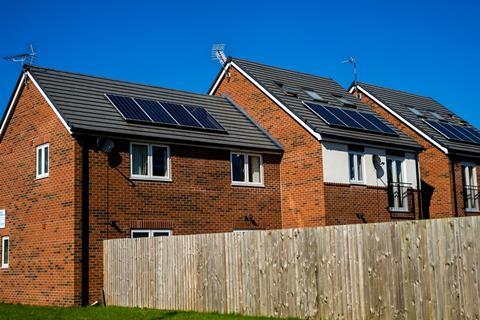 He told the House of Commons the measure would come into effect on 1 April this year rather than the same date next year, as he announced in 2021's autumn budget.
The policy exempts firms from business rates when they invest in "eligible plant and machinery used in onsite renewable energy generation and storage". It also gives 100% relief for eligible low-carbon heat networks with their own rates bill.
Sunak told the Commons that councils would be compensated for the loss of income. The Treasury noted that business rates exemption related only to England, but said devolved administrations would receive so-callled "Barnett consequential" funding in the usual way.
From April this year private homeowners will also not have to pay VAT on the installation of energy saving materials on their homes. The chancellor said heat pumps and insulation, as well as solar panels, are included.
Sunak said the move would "help households improve energy efficiency and keep heating bills down".
Mike Foster, chief executive of the Energy and Utilities Alliance, said the chancellor's measures did not go far enough.
See also>> Spring statement: Sunak confirms fuel duty cut to aid firms and households
"His VAT cut on solar panels and heat pumps will be welcomed by those who make them and by those who can afford to fit them, but a VAT cut on energy bills would have helped everyone," he said.
Matthew Pratt, housebuilder Redrow's group chief executive, said that it was "positive to see tax breaks to help consumers install energy efficient technology to reduce their bills and energy usage in the long-term".
Sunand Prasad, principal at architect Perkins & Will, said: "We strongly welcome the cut to VAT on energy-saving materials such as solar panels announced today and we urge the government to continue prioritising."