Andrew Boff calls out mayor for 'cooking the books'
Political opponents of London's mayor have questioned new figures which show that Sadiq Khan is on track to start 17,000 genuinely affordable homes across the capital this year.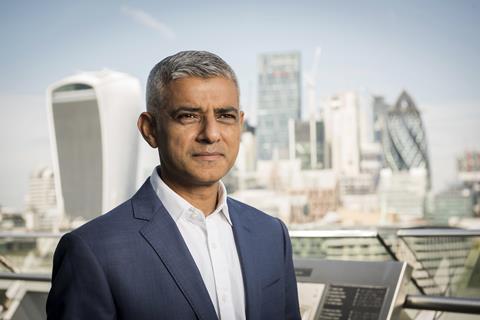 Between March and December 2019, 12,546 genuinely affordable homes were started in London, nearly three quarters (74%) of the mayor's annual target, according to data from the GLA. This is a hefty increase on the 42% that had been started by this stage of 2018-19.
But Andrew Boff, the Conservatives' housing spokesman at the GLA, said Khan (pictured) had failed to deliver homes quickly enough and cast doubt on the accuracy of the latest figures.
"Housing starts are of course important, but so are completions," said Boff.
"We know that over the course of his term the mayor has completed barely a third of the inadequate number of homes that he started. This painfully slow progress means that Londoners are finding it harder than ever to get onto the housing ladder."
"This mayor has a penchant for cooking the books when it comes to housing figures, having shamelessly counted restarts in the past. This could raise questions over whether these disappointing figures are even accurate."
And Rory Stewart, the former Conservative government minister standing as an independent candidate in this year's London mayoral election, said: "Having promised to build more than 100,000 affordable homes, today's figures show he has managed less than a quarter of that. At the current rate, it will take Sadiq Khan more than 20 years to achieve what he promised to do in four.
"Our city won't thrive if Londoners can't afford to live here. We urgently need more homes to be built. We need less politics, more action."
And from the housing sector, Tom Slingsby, chief executive of developer Southern Grove, said the provision of affordable homes in London was "collapsing before our eyes and needs to be urgently addressed.
"The latest update to the statistics for the fourth quarter of 2019 shows that London is on course to see 5,637 affordable homes completed come the end of March this year.
"This would be a significant fall on the 7,544 completed in the year to March 2019. It's easy to blame a crisis of confidence thanks to so much political turmoil, but the need for greater cooperation between planners and house builders in the capital should not be underestimated."
But announcing the latest numbers Khan said: "Delivering the genuinely affordable homes that Londoners so desperately need has been one of my top priorities over the last four years.
"Therefore, I'm delighted that today's stats show we're firmly on track to deliver our ambitious target of starting 17,000 genuinely affordable homes this year."
Khan said his definition of genuinely affordable included homes for social rent, aimed at those on low incomes, London Living Rent for those on average salaries, and shared ownership.
Of the 12,546 affordable homes started between March and December 2019, 41% were for social rent and around 20% were council homes, Khan added.