Challenging market sees Mayor shift partially away from development towards helping local authorities buy homes on the open market for council housing
The Mayor of London will use money originally intended for new affordable housing developments to part-fund councils' acquisition of homes on the open market to use as social housing or temporary accommodation.
The Council Homes Acquisition Programme (CHAP) will see a significant sum of funding diverted from the existing £4bn Affordable Homes Programme. Sadiq Khan says it will provide an extra 10,000 council homes in the next decade.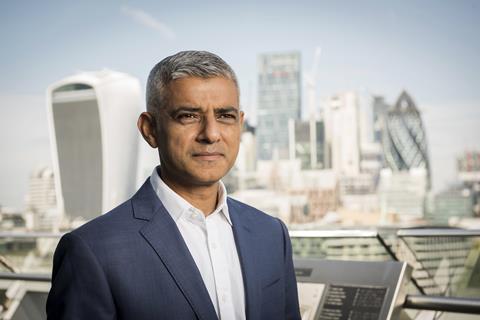 London councils will be able to bid for funds to buy homes from the private market in order to provide more social housing and temporary accommodation.
The decision to shift funds from development to part-buying existing homes is due to the ongoing challenges in the market, Housing Today understands.
However, the number of homes bought through CHAP will be capped at around 10% of the homes through AHP, equivalent to between 2,300 and 2,700 homes in the next couple of years.
The government expects the other 90% to be delivered through new developments.
A City Hall spokesperson said that grant rates in the programme are £85,000 per unit for temporary accommodation and up to £200,000 per unit for social rent. Based on this figure, 10,000 temporary accommodation units would cost up to £850m, while the cost of 10,000 social homes would amount to around £2bn.
Under the plan local authorities will be able to bid through AHP for City Hall funding to purchase a wide range of properties.
The Mayor has said that all homes funded through CHAP must comply with the Decent Homes Standard and meet strict building safety standards. Homes purchased by a council must be within the borough's boundaries.
The scheme is expected to work in a similar way to Khan's 'Right to Buy Back' programme launched by Khan in 2021, in which funding was given to councils to buy back former council homes sold through the Right to Buy.
Under that scheme, more than 1,200 homes were brought into council ownership. The spokesperson said that the 10,000 homes figure has been calculated based on the number of units acquired through the 'Right to Buy Back' programme which ran between July 2021 and March 2023.
Figures published last month show that no new affordable homes have been started under the Mayor's £4bn Affordable Homes Programme 2021-2026.
The National Audit Office last year revealed errors in the programme caused by a "lack of understanding within the department and the GLA about when funding should be transferred". This meant £1.8bn was given to GLA but not spent between April and October 2021.
See also >> More than half of homes started under Sadiq Khan's 2016-2023 programme yet to be completed
See also >> City Hall 'wouldn't rule out' lowering second staircase threshold, deputy mayor says
Data from the Mayor's office reveals that 170,000 people in London are currently living in temporary accommodation.
City Hall says it has funded the construction of over 23,000 council homes since 2018.