Professional institute hits out at Boris Johnson's promise of radical reform of planning
The professional institute representing planners has hit out at a speech by prime minister Boris Johnson in which he derided the profession for bureaucratic "newt counting" and promised far-reaching reform.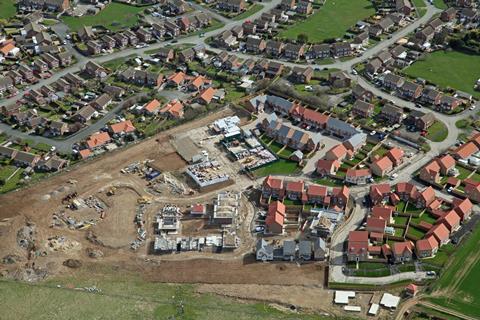 Promising the most radical reform to the planning system since it was formed by the postwar Labour government, Johnson said in his economic recovery speech on Tuesday the system lay behind the high cost of infrastructure and slow delivery of housing.
Launching "Project Speed", Johnson promised to "build, build, build" in order to recover the UK economy in the wake of covd-19 lockdown, in part by "scything through red tape" in the planning system.
However, Victoria Hills, chief executive of the Royal Town Planning Institute (pictured, left), said in an open letter that the "planner-bashing rhetoric" amounted to a "dangerous" attempt to tarnish the reputation of the sector, which was a "safety belt against bad practice"
Hills said that a radical deregulation of the system would result in "sub-standard homes", and "removes the democratic rights of communities to input to local development."
She said that lockdown had clearly demonstrated the failure of the government's expansion of Permitted Development (PD) Rights – rights that grant automatically permission for certain types of development – with some homes created under the office-to-resi conversion PD right "modern-day slums" which left residents "prisoners in their own homes."
Hills also castigated Johnson on his failure to talk about how the UK will meet its commitment to a target of net zero carbon by 2050, and said that without detailed thought, Johnson's government will "fail, fail, fail" on the target.
"Project Speed must not come at the expense of the health and wellbeing of our communities or the climate and environment," Hills added.
Alongside Johnson's speech, the government on Tuesday listed a range of new PD rights said it was bringing in prior to September, including the right to expand existing homes upward and to demolish commercial and residential buildings and redevelopment them as homes without permission.
In addition, the government said it will be publishing a policy paper in July setting more radical reforms – with recent reports suggesting that a move to a US-style "zonal" planning system is being considered.
Johnson's chief of staff Dominic Cummings is reported to be at the heart of plans for the radical overhaul, and has convened an advisory panel including economist Bridget Rosewell and property developer Sir Stuart Lipton to help draw up the plans.
Last month housing secretary Robert Jenrick strongly endorsed a collection of essays published by Policy Exchange which suggested moving away from the current plan-led system, saying it was time for a "first principles rethink" of planning.
Advocates of a zonal planning system say it will create much more development certainty, while allowing quality to be policed by design codes. Defenders of the current system say that its flexibility allows it to cope well with specific local circumstances, while democratic accountability ensures local views are adequately represented, and that any radical reform is likely to slow development down in the short term.
In contrast to the RTPI, groups representing developers have largely come out in favour of Johnson's speech, with the National Federation of Builders describing it yesterday as "exactly what was needed."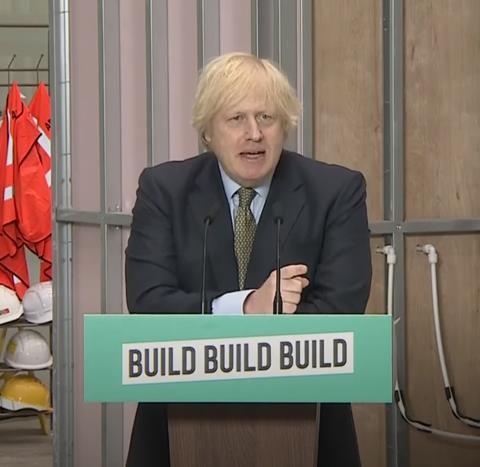 Speaking on Tuesday, Johnson (pictured, right) said the UK had failed to build enough homes "decade after decade", and that was why he will "shortly bring forward the most radical reforms of our planning system since the end of the second world war."
He said the UK will continue to insist on "beautiful and low carbon homes", but that the current planning system had slowed down UK procurement and the delivery of homes, and increased the cost of UK infrastructure.
"Time is money," he said, "and the newt-counting delays in our system are a massive drag on the productivity and the prosperity of this country. And so we will build better and build greener but we will also build faster".
Labour leader sir Keir Starmer has already hit back at the proposals, saying that under Labour, local authorities would be given more planning control, not less. He told the Local Government Association annual conference on Wednesday that the idea the housing crisis is all about a planning problem was "completely misconceived".
He said: "Let's put planning decisions where they belong, in local communities, made by local councils, but recognise that we can deal with the housing crisis by putting our shoulder to the wheel to build the houses that have been promised so many times."
Former Tory deputy prime minister Michael Heseltine also yesterday branded the PM's recovery strategy as "deeply disappointing".
The open letter came in the week the RTPI launched a campaign - Plan the World We Need - designed to ensure that planners are at the centre of a sustainable, resilient and inclusive recovery post-covid-19.