Johnson reveals a series of reforms as part of covid recovery plan, but says "radical" reform package due in July
The government has announced proposals to rip up planning rules as part of its strategy to help the country recover in the wake of the covid-19 pandemic.
Amid reports the government is looking to introduce a US-style zonal planning system, prime minister Boris Johnson said he wanted to embark upon the most radical reform of the system since the second world war, when the postwar Labour government nationalised development rights and formed the modern-day planning system.
In addition the government said it wanted a series of deregulatory proposals, many of which were outlined by the housing department in March, to come into force in three months time.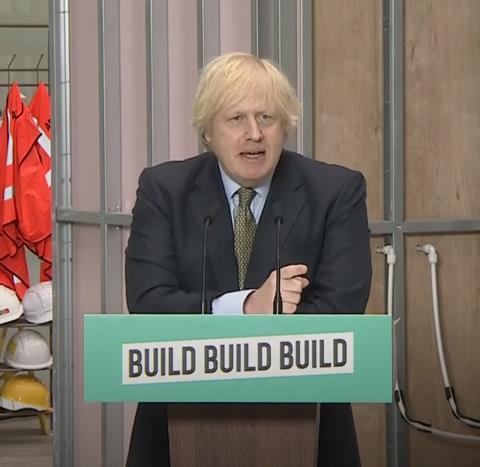 Speaking this morning Johnson said: "It is to galvanise this whole process that this government will shortly bring forward the most radical reforms of our planning system since the end of the Second World War."
Measures set to come into force from September include builders no longer needing to submit planning applications in order to demolish and rebuild vacant and redundant residential or commercial buildings, if they are rebuilt as homes.
A wide range of commercial buildings will be allowed to be converted into residential buildings without planning permission, while commercial premises will also able to be reclassified as other types of building more easily.
Homeowners will also be granted a permitted development right to extend their existing homes upwards, "subject to neighbour consultation".
However, the more radical proposals are likely to be reserved for a July planning policy paper, which it is thought likely to contain plans to abandon the existing plan-led planning system and replace it with a US-style zonal system.
Full details on the new planning system will be released next month.
Paul Smith, managing director of the Strategic Land Group, said it was pleasing to see the government was now preparing to make significant changes to the planning system.
Smith said: "Changing the way planning operates, so that it attempts to work with and guide the forces that have delivered our towns and cities for centuries rather than commanding developers what to do – and becoming frustrated when they don't 'behave' – needs to be central to the new reforms.
"The extension of permitted development rights to allow demolition and re-build will certainly see some more brownfield sites coming forward. Many councils struggle with the balance between protecting employment sites, to ensure they have enough of them, and delivering an adequate supply of new homes – this change will help address that."
Bruce Dear, head of London real estate at Eversheds Sutherland, said planning changes were among the biggest announcements to come from Johnson's speech.
He said: "The big story of Johnson's speech is not its Rooseveltian references or relatively modest spending increases, it is Johnson's radical Thatcherite plan to relax the UK planning system.
"That's bad news for newts, NIMBY's and anyone expecting long and elaborate investigations into new housing and infrastructure projects, but good news for free marketeers who have long blamed the UK's planning systems for all of our housing and infrastructure woes."
The government also announced details of further funding to support housebuilding, which initially appeared to include a significant reduction in funding for affordable housing.
In March the government announced plans to spend £12bn on an affordable housebuilding programme over five years, whereas today's announcement appeared to say the money will now be spent over eight years.
However, a government spokesman later said that the programme had not been stretched or changed, and that the funding was in line with what was announced at the Budget, with the discrepancy due to the difference between when money is spent by government and when homes are actually delivered.
This change would have taken annual spending down from £2.4bn to £1.5bn, at exactly the time that housing associations and local authorities are calling for a cash injection to make up for the likely drop off in private sector housebuilding.
Polly Neate, chief executive of housing charity Shelter, said planning reform was not a substitute for funding. She said: "No planning reform of any size or shape is a substitute for a funding cut, let alone reforms that will only result in a small amount of bad quality housing. We've already seen what happens when you take the blockers off bad housing – families end up in dangerous, overcrowded, rabbit-hutch homes. Far from bouncing forward this is stumbling backwards."
This story was amended at 17.30 on June 30 to add the response from government about the housing programme spend, and replace the original quote attributed to Polly Neate on the same subject with her comments on the planning reforms