Interim chief executive Richard Collins questions purpose of planned statutory governance reviews
The interim chief executive of the Royal Institution of Chartered Surveyors (RICS) has questioned the purpose of Michael Gove's proposed new law to monitor the body's governance.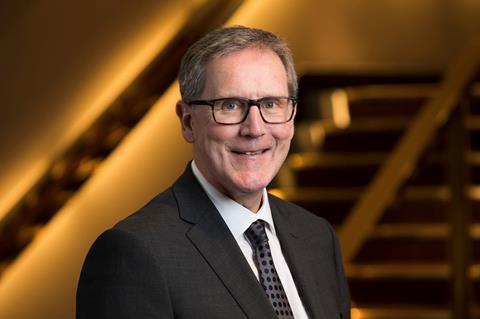 Richard Collins, speaking to the Levelling Up, Housing & Communities committee of MPs yesterday, said he would continue talking to ministers to "understand better the reasons" behind their desire to take statutory powers to review RICS.
Gove last month announced the plan to commission statutory governance reviews of RICS, with the housing secretary criticising "those in the industry who refuse to work with us in good faith to take a more proportionate approach" to fire safety checks on tower blocks.
Ministers had been frustrated by RICS' decision to maintain its current advice to require EWS1 forms on blocks under 18m in some circumstances.
Collins said: "RICS is a royal charter body, we've got an obligation to act for the public advantage, we don't have statutory powers, we're not a statutory regulator, our members don't have their titles reserved [and] they don't have to be a member of RICS to undertake surveying activities.
"We are wholly funded for our public advantage work by members and in that context I'm unclear about the purpose of a statutory-based investigation".
Collins admitted that RICS' refusal to change its current fire safety advice, which requires EWS1 forms on some blocks under 18m, "may well have caused some upset".
See also>>When will the flat valuation blockage finally come to an end?
RICS' decision to not immediately change its guidance last summer was problematic for forner housing secretary Robert Jenrick, who announced last July that EWS1 forms - blamed for holding up valuations and house sales - would no longer be required on blocks under 18 metres.
Collins said: "It would be fair to say at that time, we and actually UK Finance and others, took a different view to the then secretary of state."
In December, when RICS completed a five-month review and confirmed its decision not to change its advice, the DLHUC issued a statement accusing RICS of 'lacking ambition' to solve the problem. RICS said its decision was in the public interest as purchasers might otherwise be passed on costs unwittingly in some circumstances.
"We did review all our guidance on EWS1 and consulted widely but we took a different view, the industry took a different view and that may well have caused some upset," Collins said.
Gove also however accepted last month that EWS1 forms will still be required on some buildings and suggested discussions with RICS have been more positive lately. He said: "There have been all sorts of difficulties with that organisation in the past, but I am now hopeful that we are on a more positive footing."
The controversy also comes after RICS's chief executive and president both last year resigned in the wake of a separate governance scandal at the body.
Collins pointed out that RICS has commissioned peer Lord Michael Bichard to review its purpose and strategy and said the findings would be published in full.
He said: "We welcome transparency, we welcome scrutiny, we are a public advantage body, we're very welcome to be challenged and to engage in debate about 'are we doing the right thing?'."