Housebuilder says its margin and turnover up substantially as market bounces back from covid
Redrow has said the ongoing housing boom will mean its operating margin and completions will both be up this year when it releases its final results in September.
In an end-of-year trading update this morning, the housebuilder said its operating margin for the year to 27 June would be above 15.5% – markedly up from the 11.1% last year when the covid-19 pandemic hit the firm's numbers – with turnover up to around £1.94bn from £1.34bn.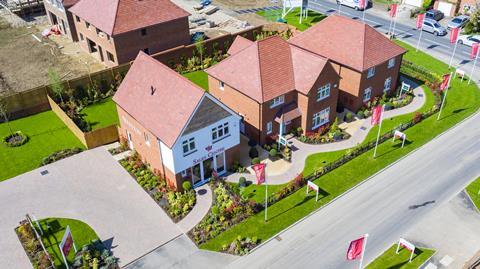 The news means the firm is now heading back towards pre-pandemic levels of margin and turnover when its 2019 figures were 19.5% and £2.11bn respectively.
It said completions will be 5,620 for the year, a rise of 39% on last year but still below the 6,443 recorded in 2019. It added that its total order book stood at £1.43bn, in line with June 2020's figure.
It added: "The continuing strong sales market combined with the tapering of the stamp duty holiday at the end of June has resulted in Homes turnover in the regional businesses being ahead of expectations."
Redrow said it has sold the last of its London sites that it decided to pull out of last year, instead concentrating on its remaining scheme in the capital called Colindale Gardens, close to the RAF Museum.
Last summer, Redrow said it was scaling back its London business, set up in 2011, on the basis that home buyers since lockdown had been displaying a "desire for more inside and outside space, wanting to live closer to green spaces and having better home workspace".
It said the proceeds from the sales would be ploughed back into its regional businesses including its recently set up Southern division.
Reservations per week for the year amounted to 0.7, up from 0.67 last time, while revenue from its homes, excluding PRS reservations, was £288,000, up from £259,000.
Redrow will announce its full-year results on 15 September.