Industry awaits detail of government legislative priorities, including planning changes and a new procurement bill
The government's legislative programme for the months ahead will be set out later this morning in as Boris Johnson seeks to move attention on from his 'party gate' troubles.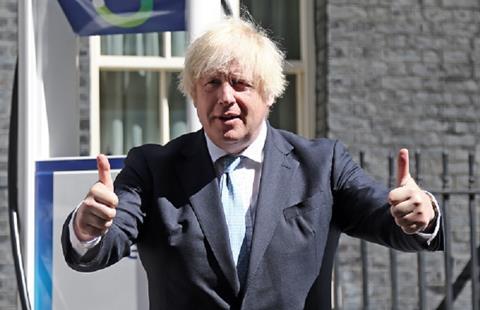 The Queen's Speech, widely seen as crucial for a government looking to 'reboot' after heavy losses in last week's local elections, will contain a levelling up bill which is expected to include key changes to the planning system. The speech will also include new legislation to overhaul procurement.
The levelling up bill is expected to include scrapping the section 106 system of negotiated developer contributions for affordable housing and infrastructure and replacing it with a new nationally set levy with monies raised going to local authorities.
The plan to scrap section 106 – under which developers agree to provide a percentage of affordable homes in a development – is controversial as the mechanism is a major source of affordable housing supply, although others have argued it will enable more joined-up placemaking.
Housing secretary Michael Gove has confirmed the levelling up bill will include plans for communities to decide on local design codes for developments via 'street votes' in a bid to ensure local support for densification of housing. It is also expected to include measures to force councils to rent out empty shop buildings and to double council tax on second homes.
However, the government is expected to drop its original plans, laid out in its 2020 white paper, to introduce growth areas in every council area in which developers receive automatic outline permission, and set mandatory local housing targets in Whitehall.
The speech will also set out various Brexit-related bills which would effectively remove and replace EU regulations retained after Britain's departure.
See also>> The Building Safety Bill is now law – here's what you need to know
See also>> Why scrapping S106 will result in better placemaking
These include a procurement bill aimed at making it easier for smaller firms to bid for public sector contracts.
An energy bill will also reportedly be announced today. This legislation will help implement new policies announced last month in the government's energy security strategy, which includes plans to build eight new nuclear plants. The strategy sets out plans to generate 24GW of energy from nuclear power by 2050, accounting for 25% of the UK's projected demand.
The need for the legislation became much more urgent as ministers seek to ensure energy independence for the UK following the outbreak of war in the Ukraine.
A new government body – Great British Nuclear – is to be set up to bring forward new projects alongside a new £120m Future Nuclear Enabling Fund.