Notorious James Riley Point tower will be stripped back to its core and rebuilt to Passivhaus standard
Council-owned housebuilder Populo Living has received permission to revamp and extend a high-rise social housing tower on the 1960s Carpenters Estate next to the former Olympic Park in east London.
The developer, owned by Newham Council, has won permission from the London Legacy Development Corporation for 136 homes, of which 94% will be a social rent level, plus a new community centre and sports centre, designed by architect Proctor & Matthews.
The homes will be housed within the existing 23-storey James Riley Point tower, which contains 132 flats and which will be stripped back to its concrete frame before being rebuilt, refurbished and extended.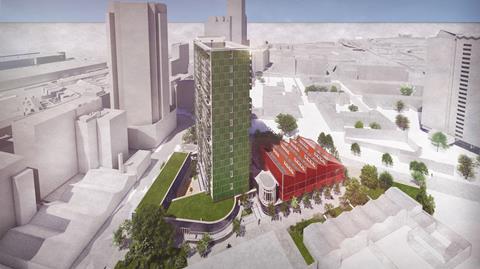 The tower refurbishment itself, masterminded by ECD Architects, is designed to bring the building up to Passivhaus energy efficiency standards and will see the new homes, with clustered balconies, meet London Plan space standards. Existing tenants will have right of return.
The scheme is the first phase of a wider regeneration of the 710-home Carpenters Estate, also designed by Proctor & Matthews, with Metropolitan Workshop, which will see 2,172 homes built overall, with a minimum of 50% social rent. Tenants voted 73% in favour of the regeneration last year.
Mayor of Newham Rokhsana Fiaz said: "Since my re-election I have tasked the council and Populo Living to get stuff done, and they'll be hitting the ground running with the restoration plans for James Riley Point, because residents on the Carpenters Estate have waited far too long."
Gary Alston, design and technical director at ECD Architects, said the retention of the existing structure, rather than demolition and redevelopment, would provide significant savings in embodied carbon. He said: "The reconfigured design provides homes that achieve modern space standards, improved accessibility throughout and external communal and private amenity spaces.
"This exciting low-energy development provides James Riley Point with a new identity that is inspired by its modernist roots."