Select committee echoes housebuilders call that suppliers, subbies, insurers and other developers contribute to costs
A committee of MPs has repeated its call for the government to set up a comprehensive building safety fund to pay for the repair and remediation of fire safety issues on housing blocks where the original builders and developers can't be traced.
A report by the Levelling Up, Housing and Communities Select Committee also said the government needed to pursue other players responsible for the cladding crisis – such as product suppliers, installers, contractors, and subcontractors, insurers and foreign developers – for funds to pay for repairs with as much vigour as it was pursuing UK housebuilders.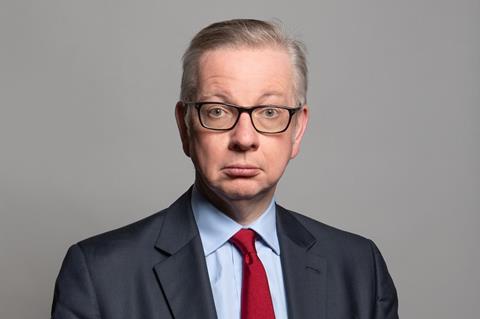 The report follows an inquiry launched in the wake of Michael Gove's (pictured, left) new policy on the fire safety crisis, launched on January 10, in which the housing secretary said he was ditching plans to force leaseholders to take up loans to pay for necessary repairs to mid-rise housing blocks, and was instead asking UK housebuilders to pay £4bn for the repairs instead.
Gove has backed his plan with amendments tabled to the Building Safety Bill, which can stop housebuilders from using or obtaining planning permissions or building regs approvals if they don't play ball. The amendments also raise the prospect of the government levying a roof tax on new planning permissions to pay the remediation cost.
Housebuilders, which claim to have already spent £1bn repairing their own properties and who are about to start paying a 10-year £2-3bn tax, have said they support the decision protect leaseholders from the cost of repairs, but want the costs to be spread more broadly across the industry – a call supported by the select committee.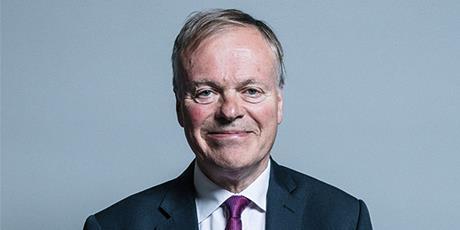 Clive Betts, chair of the committee (pictured, right), said that he welcomed Gove's commitment to the issue, but that the committee was concerned there were gaps in the proposals, and that it was "shameful" that five years on from Grenfell Tower fire, this situation was yet to be properly resolved.
"The Government should bring forward a Comprehensive Building Safety Fund, or upgrade their existing funding plans, to ensure that the costs of remediating all building safety defects on buildings where the original 'polluter' cannot be traced are covered and that leaseholders are also compensated for costs they have already paid out.
"The Government should be looking beyond developers and manufacturers to contribute to the costs of fixing the building safety crisis.
"We recommend the Government identify all relevant parties who played a role in this crisis, such as product suppliers, installers, contractors and sub-contractors, and legally require them to pay towards fixing individual faults and ensure that they also contribute to collective funding for building safety remediation.
"Insurers should also be required to contribute to funds for remediation."
>> Is Gove really going to shut down housebuilders?
>> Does Gove's £4bn cladding levy mark the start of an anti-development era?
Betts said the government also needed to stop "pitting the building safety crisis against the housing crisis", and ensure that funding for new housebuilding was guaranteed, whatever happened with the fire safety crisis.
The committee heard evidence that around one in ten planned new social homes had been axed because of the need to divert funds to the fire safety crisis.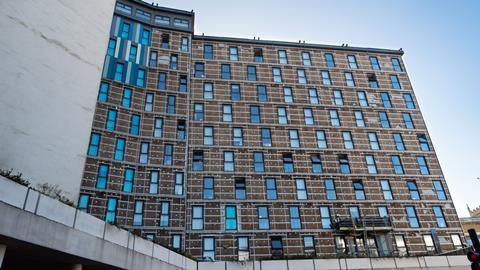 The report also found it was "completely unacceptable" that the government does not know how many housing blocks there are which require remediation.
The committee report said the government should "legally require" all relevant parties who played a role in the building safety crisis, "such as product suppliers, installers, contractors, and subcontractors" to:
contribute payment to put right any individual faults in which they played a part and
contribute to collective funding for building safety remediation—ideally our recommended Comprehensive Building Safety Fund.
The committee added that the Government should, where necessary, fund works upfront and recoup its costs, in order that efforts to identify responsible parties do not delay remediation works for affected occupiers.
A spokesperson for the Home Builders Federation welcomed the report. He said: "We are pleased to see MPs have supported our view that a broader base of the industry needs to be asked to contribute to fixing this issue, not just UK housebuilders, who themselves were responsible for just a minority of the blocks which now require remediation. While it may be difficult to pursue foreign developers and product manufacturers, UK businesses should not be left to pick up the bill alone.
A Department for Levelling Up, Housing and Communities spokesperson said the department will consider the committee's report before responding in detail, but that a tax-payer funded solution was "the wrong approach". The spokesperson said: "We have scrapped the flawed loan scheme and delivered the most radical and far-reaching legal protections ever for leaseholders on building safety.
"Industry, not leaseholders, must pay to fix the problems they caused. However, asking taxpayers to pay more upfront instead of developers, and to cover costs for overseas property investors, would be entirely the wrong approach."