Permanent memorial unveiled in north Kensington to the 72 people killed in the fire on 14 June 2017
A series of mosaic paving stones has been installed along the streets of north Kensington to mark the fifth anniversary of the Grenfell Tower fire tragedy with a permanent memorial.
The blaze at the west London tower block on 14 June 2017 killed 72 people and led the government to overhaul building safety regulations.
The artwork, called Walking as One, has been installed as way-markers along the route of the Grenfell Silent Walk. It includes 39 circular mosaics featuring the Grenfell green heart and a gold fleck to represent each life lost.
The project was organised by Grenfell Memorial Community Mosaic – initiated in 2018 by the Association of Cultural Advancement through the Visual Arts (ACAVA) and Al Manaar Muslim Cultural Heritage Centre – and has brought together locals under the guidance of artists Emily Fuller and Tomomi Yoshida.
Across 35 of the pieces, the word "justice" is represented in each of the different languages spoken by tower residents, while the three penultimate mosaics quote the motto "forever in our hearts".
The final piece includes a special stone featuring leaf motifs, which connect the mosaic series with previous artworks created in the project.
The entire programme of work has been documented by young and emerging photographers' group ACAVA Shoots, which will be exhibited at Maxilla Walk Studios until 30 June and at the Photographer's Gallery in July.
>> Also read: Decay, delay and deregulation: what we have learnt from the Grenfell Inquiry
The unveiling of the artwork comes a day after the publication of a new report criticising the Building Research Establishment, the government's former safety and testing body. The BRE was responsible for testing many of the cladding and building materials used in Grenfell's refurbishment.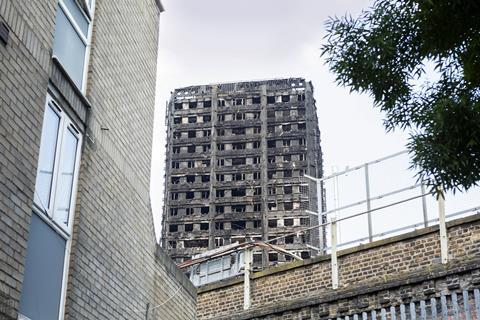 But, according to the report by Luke Bisby, professor of fire and structures at Edinburgh University and an expert witness to the Grenfell Inquiry this week, the body missed opportunities to avoid the disaster.
"What emerges from this overview of the development of England's building regulatory environment, and the major cladding fires that have occurred during the same period, is a picture of increasing freedom for industry," said Professor Bisby.
He also highlighted a "profound lack of competence of actors" including the BRE.
Mark Rowe, Fire Brigades Union national officer, said the report was "massively significant" and demonstrated the failure of the BRE's privatisation, which occurred in 1997.
He said: "In the run-up to Grenfell their status as a private company meant that they were dependent on fee income from clients, such as Grenfell manufacturers.
"This made them too willing to please clients and too reluctant to challenge them or the information they provided.
"The BRE's private status also meant it did not share information as it should have done, and there were basic failures of competence in vital areas."