Build to rent specialist signs section 106 agreement on 824-home Sackville Trading Estate regeneration
Build to rent specialist developer Moda is set to start construction on an 824-home scheme in Hove next year after signing a £10m section 106 deal with the local council.
Moda received planning permission for the scheme to transform the current Sackville Trading Estate in February. However, the firm this week signed a contract to give Brighton and Hove council £10m towards local infrastructure, schools and public art in order to offset the impacts of the development.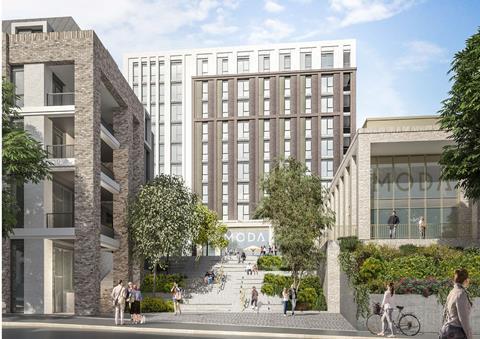 Moda has also committed to make 10% of the 564 build-to-rent homes in the scheme available for "affordable" rent at a discount of a quarter to local rates.
The developer said it will now look to commence construction in 2021, with the build phase set to create 560 jobs.
In addition to the homes for rent, the rest of the scheme, adjacent to Hove station, will comprise a 260-home senior living development, which the developer said will "transform the site into a truly multi-generational community."
Moda is backed by finance house Apache Capital, with the firms together having £850m of schemes under construction, which they claim is the first tranche of a £2.5 billion pipeline of over 7,500 rent-only homes.
Peter Kyle, MP for Hove, said the section 106 agreement was "great news" for what was currently a "tired" area. He said: "I'm particularly looking forward to seeing nearly £1.8m spent on outdoor/indoor sports, parks and gardens, children's play space, allotments and our greenspace. With council budgets slashed and the residents of Hove needing enhanced outdoor space in our covid-19 era, this money will fulfil this need."