Cost of work will deter households from carrying out improvements, letter to Boris Johnson warns
The government must fund a full national retrofit programme, a group of organisations from across the economy has told the prime minister.
In an open letter to Boris Johnson, several groups, including the Federation of Master Builders, said it was essential the financial burden of making homes more energy efficient is taken away from residents.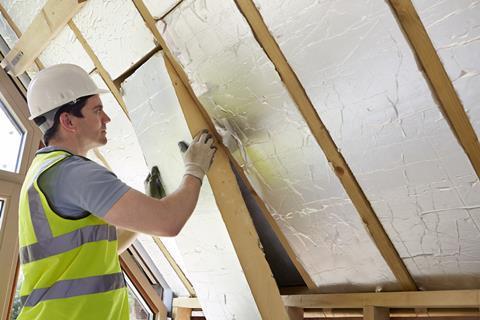 The letter's signatories argue that the process of installing low-carbon heating, upgrading insulation or putting in smart technologies is "time consuming, confusing and stressful".
They cite the example of the Green Homes Grant, a scheme that was designed to help people insulate their homes.
It was scrapped in March this year after reaching just 10% of the houses that the government had promised would be improved.
The letter added: "The vast majority of people will be unable to make these changes without financial support like grants, low-cost loans and financing.
"The government must bring forward specific support schemes for people who are fuel-poor, in vulnerable circumstances or less able to afford these changes. Everyone should benefit from warmer, more efficient homes."
The letter said that in addition to upfront costs research from Citizens Advice, another of the letter's other signatories, showed two very clear barriers to people making these adaptations.
It added: "Right now the process of installing low carbon heating, upgrading insulation or installing smart technologies is time-consuming, confusing and stressful. Researching and choosing the right technology, finding a reputable installer and having the work completed demands huge amounts of knowledge, time and effort.
"The process of making adaptations is often beset by problems, including dodgy installations, technologies not working as expected, and people facing difficulties in fixing things when they go wrong."
The letter said the government had an opportunity to address these issues by giving people the tools and support they need to engage with the process and support the transition to net zero.
The groups also added that making any future retrofit schemes would allow industry greater time to upskill and better support its implementation.
The other signatories to the letter are business group Aldersgate Group, which is chaired by former prime minister Theresa May, and consumer rights organisation Which?
See also>> Why public funding is a must in our net zero strategy
Carla Denyer, the Green party's housing and communities spokesperson, said: "The government's market-driven approach to decarbonise homes is leaving households confused and stressed, and will not deliver results fast enough. What is needed is a publicly funded scheme that will retrofit 10 million homes, making them warm and cheap to heat, by 2030.
The government is expected to release soon its long-awaited Heat and Building Strategy, which will aim to incentivise homeowners to transition to emission-free homes by installing low carbon and renewable technologies.