Council also approves 250-home housing block in Ancoats
Manchester city council has refused permission for a student accomodation block for the fourth time.
Councillors remained unconvinced with revised plans to cut the number of rooms at the Boundary Lane scheme from 261 to 146 at a planning committee meeting last week.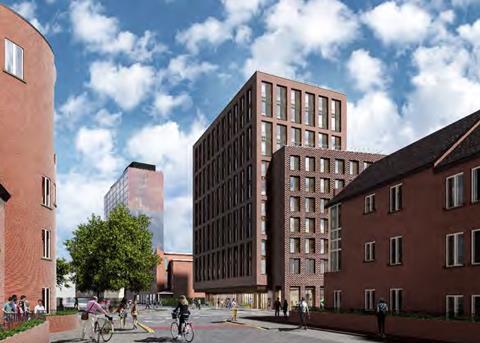 The application by developer Curlew Investments was turned down on the grounds that the part seven, part nine-storey building would result in an "imbalance of student numbers in a traditional residential area".
This is despite the council's planning officers recommending the revised application for approval ahead of the meeting, describing it as "wholly consistent" with planning policies for the site. The scheme is designed by architects Simpson Haugh.
But a local campaign group called "Block the Block" had argued the scheme was excessive in height and scale and would cause loss of daylight to surrounding properties.
The plans had previously been refused in May 2022, October 2022 and July 2023.
The council also rejected an application by Aviva Investors to build five industrial units in Wythenshawe in last week's meeting.
But plans designed by Callison RTKL for local developer Manchester Life to build a 256-home scheme on former industrial land in Ancoats were given unanimous approval.
>>See also: Reforming planning: one way to solve the housing crisis
>>See also: UK housebuilding recession: How much worse is it going to get?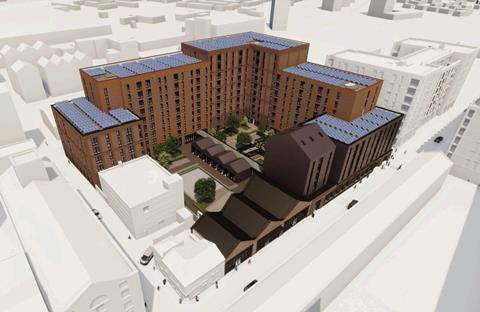 The Pheonix Ironwork scheme consists of a single part five, part 10-storey block wrapping around a central garden area off Naval Street, Poland Street, Jersey Street, and Radium Street.
The project team includes project manager Mace, planning consultant Deloitte, landscape architect Planit IE, structural and civil engineer Curtins, which is also transport consultant, MEP and sustainability engineer Buro Happold and fire engineer Hoare Lea.
Manchester council's planning officers had recommended the scheme for approval, arguing it would bring significant economic and social benefits to the largely vacant 0.8ha brownfield site.
Manchester Life have built nearly 1,500 homes in the fashionable Ancoats and New Islington districts. The firm's future pipeline in the area includes the 120-home Eliza Yard and the consented 190-home Jersey Street development.