Council leader says contractor refused meeting invitation after blaze which destroyed 20 apartments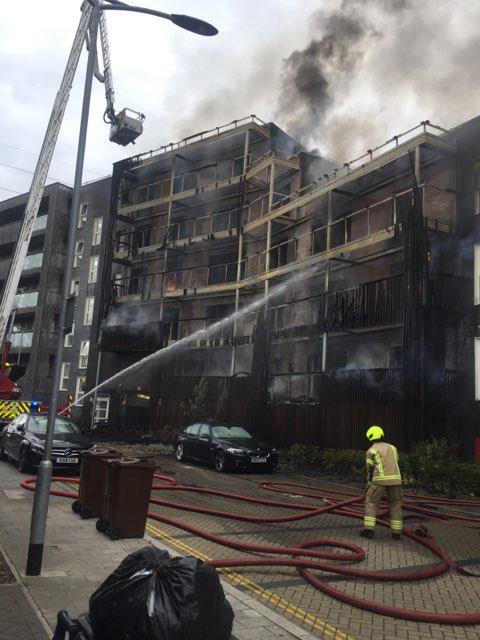 Mace has denied claims by the leader of Barking and Dagenham council that it refused to meet the local authority following the fire which destroyed 20 flats and damaged dozens more on the Barking Riverside housing scheme.
The contractor had built 64 houses on the development, although none of these had been damaged in the fire which took place on Sunday 9 June.
Barking & Dagenham council leader Darren Rodwell said Mace had been invited to join a meeting of stakeholders including Bellway Homes and Southern Housing – which leases a number of the flats on the development – to discuss the blaze, but had refused.
Mace said it had been unable to join the get-together Rodwell referred to, but said it had attended a residents' association meeting at the Barking Riverside site on Thursday evening, five days after the fire took place, and had spoken directly to residents of properties it had built in the area.
The contractor said since the 64 houses it had built on the Barking Riverside scheme were not high-rise flats they were "subject to different rules and guidance [relating to high-risk buildings over 18m] than the properties affected by fire".
Mace told Housing Today: "The safety of the everyone who lives in properties that we have built for clients is our top priority and we are extremely sympathetic to the concerns raised by residents about their homes. We recognise how distressing this situation is.
"As a matter of urgency we are undertaking an in-depth investigation into the properties that we built, and are committed to working closely with Barking Riverside, the Mayor's office, Bellway Homes and the council to understand the situation and establish what action, if any, needs to be taken."
But Rodwell said his council had organised support for residents affected by the fire and wondered why the private sector hadn't stepped in.
"We as the the local authority have come in and started work. We set up an urgent care centre near the housing scheme. Effectively we're subsidising [support for residents]," Rodwell added.
Last week Bellway Homes, which built the flats destroyed in the fire, said it was co-operating with the investigation into its cause.
The housebuilder had said it was working with Barking and Dagenham council to secure alternative temporary accommodation for affected residents and "offering our support to help remediate the damaged apartments".