Housebuilder 'offering our support to help remediate the damaged apartments'
Bellway has said it is cooperating with the investigation looking into the cause of the fire which ravaged more than 20 flats in Barking, east London, over the weekend.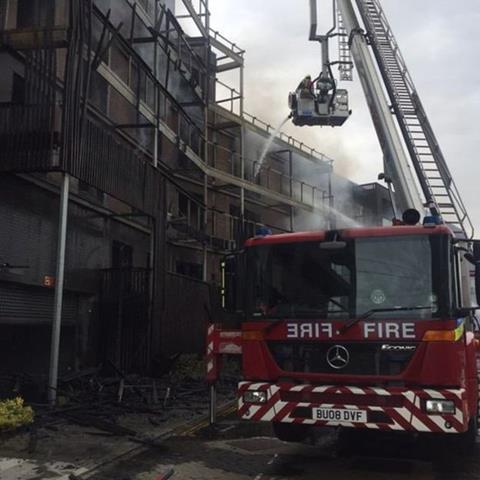 The housebuilder said the fire at Samuel Garside House was "a very serious issue and we are working with all parties to establish how this happened".
Bellway also said it was working with Barking and Dagenham council to secure alternative temporary accommodation for affected residents and "offering our support to help remediate the damaged apartments".
It did not say how far this work had progressed, how many residents were being temporarily re-housed or for how long.
In a statement Bellway said: "We understand that the blaze was contained to the external envelope of the eastern elevation of the building, with initial reports suggesting that it was caused by a barbecue on a resident's balcony.
"We are relieved that the fire protection measures within the building, which received all regulatory approvals, ensured that occupants were safely evacuated.
"Bellway continues to take the issue of fire safety extremely seriously and will work with all involved to ensure that affected residents are properly supported during this difficult time."
Residents in the development have said they had previously warned Bellway about the fire risk to the flats, but had been assured by the housebuilder that the development was safe.
Meanwhile Bellway issued a trading update for the four months to 2 June, reporting what it called a "responsible approach to growth and high levels of customer satisfaction", resulting in the company retaining its status as a five-star house builder as measured by the Home Builders' Federation customer satisfaction survey.
The group said it had seen strong sales demand in the period, with a 4.7% increase in the reservation rate to 244 per week, plus a strong forward order book, with the number of plots rising by 2.7% to 6,312 homes.
In a statement Jason Honeyman, Bellway's chief executive, said it had been "another successful trading period for the group, during which we have made further disciplined investment in order to grow the number of sales outlets and build upon last year's strong trading performance".
Customer satisfaction remained high, Honeyman said. "Going forward, we are on track to deliver further earnings growth this financial year and beyond that, our strong balance sheet ensures that Bellway is in a good position to continue its long-term growth strategy."