Board of retirement housebuilder McCarthy & Stone backs buy out by US private equity giant
US private equity giant Lone Star has launched a £630m bid to buy listed retirement home specialist McCarthy & Stone.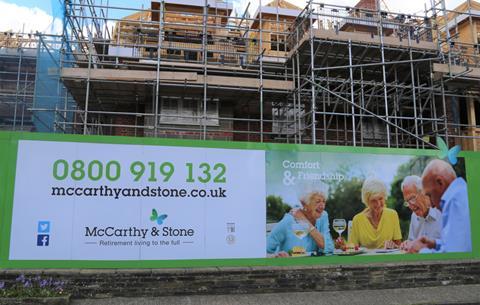 The bid, which has the unanimous backing of the McCarthy & Stone board, will see the US firm pay a price nearly 40% above the value of yesterday's closing share price, and almost 60% above the average share price for the past three months.
Shares in McCarthy & Stone rocketed 40% on the news, indicating a positive response from shareholders, who will have to approve the deal.
Making the offer, Lone Star said it believed the acquisition of McCarthy & Stone represented "an attractive opportunity for Lone Star to gain exposure to the retirement living sector", and that it recognised the work undertaken to turn the business around.
It said had already received undertakings from shareholders equivalent to 17.2% of the company to vote in favour of the takeover.
However, while today's offer represents a huge premium to McStone's recent share price, it is still well below the stock market valuation of the firm prior to the pandemic, when its market capitalisation was above £800m off a share price of more than 156p.
Paul Lester, chairman of McCarthy & Stone, said the offer from Lone Star represented "fair value for shareholders" and that the board unanimously intended to recommend the offer.
He said: "We believe that Lone Star would provide a complementary partner for McCarthy & Stone's stakeholders and along with the investment in the business that Lone Star can provide, will enable further improvements of its transformation strategy and allow McCarthy & Stone to capitalise on its growing rental and multi-tenure offering which would underpin the long-term growth of McCarthy & Stone."
The deal follows a difficult period for McCarthy & Stone, which had struggled to secure support from shareholders even before the pandemic struck, reporting a profit warning in 2018 which saw the departure of chief executive Clive Fenton.
Current chief executive John Tonkiss was appointed in September 2018 and had been attempting to transform the business away from a sole reliance on its traditional retirement housing product to a mix of retirement housing and extra care-type provision when the pandemic struck.
In recent half year results covering the pandemic period, the firm fell to an underlying operating loss of £24.8m, after legal completions dropped by 44% to just 471, and revenue slumped almost two-thirds, to £101m.
McCArthy & Stone listed on the stock exchange in November 2015 and initially saw its value rise, hitting a high of 277p per share, valuing it at more than £1bn. However, by June 2016 its value had fallen back below its original listing price of 209p, and its has never fully recovered.
McCarthy & Stone was a pioneer of housing aimed specifically at older people after its set up in 1977, and has for many years been the largest builder of retirement houses in the UK.
Dallas-based Lone Star was set up 25 years ago to invest in property assets, and now boasts $85bn of investments across the globe. In 2015 the firm bought Wembley developer Quintain.
Donald Quintin, president of Lone Star Europe, said: "As a leading developer and manager of retirement communities in the UK, McCarthy & Stone represents an attractive opportunity in a market underpinned by clear fundamentals: a rapidly ageing population and a structural undersupply of suitable housing options for older people.
More to follow…