Residential landlord started work on less than 4,000 homes in the last year
The number of new homes started by housing association giant L&Q dropped by nearly 40% in the year to March, according to provisional figures released by the firm.
The organisation, which had already announced a temporary suspension of some new work due to financial challenges prior to the coronavirus pandemic, said in a trading update that the number of new starts on site dropped by 39% from 6,428 in 2018/19 to 3,945 in 2019/20.
The organisation also said that the number of new homes it completed fell by 15% to 2,439 – of which around half were for market sale or rent.
L&Q has in recent years been the largest developer in the housing association sector, with an ambition to build 100,000 homes over the next decade.
However, the London-focused landlord has also been facing a £250m post-Grenfell bill for remediating blocks with flammable cladding and other fire risks, and amid an uncertain market in 2019, chief executive David Montague in September said it "will now pause taking on new projects for the moment."
While the firm continued with existing schemes at that point, on March 25 the firm said it was downing tools on all sites due to the coronavirus lockdown. Unlike some other big residential developers, it has not yet announced a recommencement of work on site. The update said that it had plans in place for the safe phased remobilisation of construction and planned maintenance work "as soon as the time is right".
L&Q's development pipeline held steady, at just over 50,000 units, although the cost of building this out dropped marginally from £6.8bn to £6.6bn.
However, the number of new homes added to its pipeline in the last year with planning approvals plummeted by two-thirds from over 9,000 to just 2,947. It has also seen the number of unsold homes on its books soar from 136 at this point last year to 526, worth an estimated £133m.
Its operating surplus was £297m, down just three per cent on 2018/19, an improvement on the 42% drop in surplus reported this time last year. Announcing the trading update, L&Q's group finance director, Waqar Ahmed, said the organisation had delivered "better than expected" performance on margins "reflecting the expected stabilisation in financial results."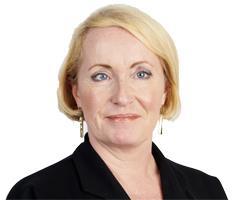 In February L&Q's group director of development and sales, Fiona Fletcher-Smith, told Housing Today L&Q's long-stated 100,000-home target remained in place. In order to meet it, she said, the organisation would ultimately be building well in excess of 10,000 homes a year and could be as big as Barratt.
She said: "We want to be the biggest – our aim is to disrupt the industry. We may not manage it, but we're not walking away from the 100,000 homes commitment."