Insurance giant says plan to buy 207-home east London scheme its largest yet
Insurance giant L&G's new affordable housing business has signed its largest deal to date, buying 207 homes off plan from Ballymore on the developer's Royal Wharf regeneration scheme in east London.
For profit provider Legal & General Affordable Homes said the purchase brought its total pipeline of affordable homes to over 6,000 across the UK, with more than 1,000 homes already completed.
The Deanston Wharf scheme bought from Ballymore, part of the 40-acre Royal Wharf project is made up of 104 homes for affordable and social rent plus 103 homes for shared ownership, across four separate buildings.
L&G said the scheme is scheduled for completion in the first half of 2023. L&G set up the subsidiary in 2019 with the aim of building 3,000 affordable homes a year by 2023, claiming earlier this year it was "well on track" to meet that target.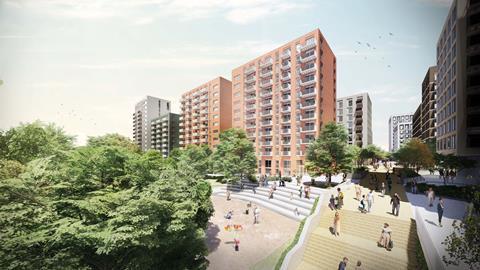 Ben Denton, chief executive of Legal & General Affordable Homes, said the deal was a "milestone" in the firm's growth. He said: "Working alongside our management providers, developers and suppliers we remain committed to leading the evolution of the affordable housing sector for the benefit of our customers, our stakeholders and society".
The announcement by L&G came as rival for-profit registered provider Sage Housing, which is backed by investment giant Blackstone, said it had hired a trio of new non-execs to bolster its team.
The firm said it had appointed to its board Cindy Rampersaud, from education provider Pearson, Cedi Frederick, currently chair of North Middlesex University Hospital Trust and Gareth Llewellyn, chair of the board of remuneration and nominations committee at Harwich Haven Authority.
Sage claims to have built 4,000 homes since setting up in 2017, with a pipeline of more than 12,500 under contract.