Report finds that having up-to-date local plans is key to delivering more affordable homes
A network of land promotion and development businesses has has identified a shortage of almost 110,000 new affordable homes a year, and called on the government to insist every local authority has an up-to-date local plan to drive up numbers.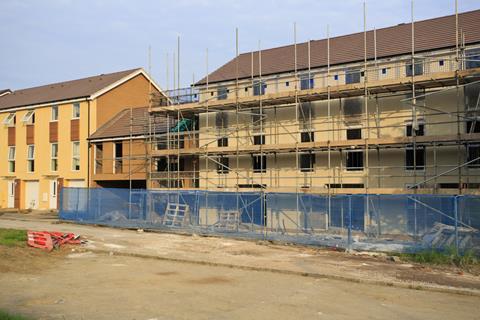 In a report called An Affordable Housing Emergency, released this week, The Land Promoters and Developers Federation (LDPF) said that on average only 35,500 net additional affordable homes have been produced annually in the last decade, when you take account of losses via Right to Buy.
This is 110,000 short of the 145,000 affordable homes identified as needed each year in research undertaken by Heriot Watt University for the National Housing Federation and homelessness charity Crisis.
The LPDF report found the local authorities allowing the greatest numbers of affordable homes to be constructed are those that have an up-to-date local plan, and where there is a mix of both brownfield and greenfield sites available for new homes.
LPDF chairman Paul Brocklehurst: "The government now needs to ensure that sufficient homes of all types and tenures, especially affordable homes, are built to address the housing emergency.
"The most obvious way to do that is through insisting every local area has a local plan. Only through universal adoption of local plans can we ensure that all those excluded from the housing market, whether from home ownership or access to a social rented house, can start to believe that they will soon have a home to call their own."
The LPDF report, produced in partnership with Turley and Tetlow King Planning, comes out shortly after the announcement of the Levelling Up Bill in the Queen's Speech, and said the 'infrastructure levy' promised in the legislation means "further uncertainty". The levy would be charged by local authorities on new development in their area and will be used to pay for infrastructure. It will replace section 106, which currently stipulates when new developments must have a certain number of affordable units.
"The implications of this for the overall number of affordable homes is not yet known," the LPDF pointed out.
But it also highlighted: "Currently around half of the supply of affordable housing is delivered directly through cross-subsidy from market housing schemes by housebuilders and developers rather than by public subsidy."
The government has said that its reforms are designed to make creating local plans easier, and that by removing the requirement for councils with up-to-date plans to demonstrate a five-year-land supply, it will incentivise them to get them in place quickly. However, it was reported recently the government is mulling the idea of bringing back the idea of right to buy for housing association tenants, which would tend to further deplete the stock of affordable housing.
Antony Pollard, head of economics at Turley, said: "The paper shines a spotlight on the severity of the affordable housing emergency we face as a country. Any reforms to the planning system must work to provide a greater supply of viable land to accommodate and facilitate the delivery of many more affordable homes."
As well as the importance of a plan-led system, it is also important to allocate specific sites, including viable non-brownfield sites, to solve the affordable housing crisis, the LPDF recommended.