U&I's £500m plan to redevelop former London Fire Brigade headquarters rejected following public inquiry
Robert Jenrick has blocked plans for a 443-home mixed use redevelopment of the London Fire Brigade's art deco former headquarters on the banks of the Thames.
The £500m scheme, developed by U&I and designed by architect Pilbrow & Partners, was set to provide 443 homes, of which 40% were affordable. The plans were also to include a hotel, retail space, 100,000 sq ft of workspace, a gym, new fire station, restaurant, rooftop bar and LFB museum. It was approved by Lambeth Council last year.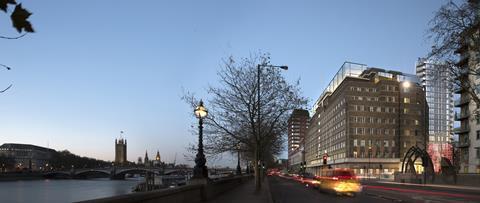 However, the scheme has now been rejected by the Housing Secretary following a public inquiry on several grounds, including harm to heritage assets and loss of daylight impacting on nearby residents.
In his decision notice this week, Jenrick agreed with a planning inspector who raised concerns about the harm to the significance of the listed former LFB building, through the addition of a rooftop restaurant, internal alterations, and changes effecting the rear elevation. He said there would be harms caused by the effective loss of the drill yard and to the setting of the building.
Jenrick said that the proposed two towers of 26 and 24 storeys would cause serious harm to views of the Palace of Westminster World Heritage Site (WHS) from Primrose and Parliament hills in north London.
Jenrick also said there "would be harm to the living condition of residents by reason of significant loss of daylight to windows and habitable rooms"
A spokesperson for U&I said the plans had been 10 years in the making. They added: "We are incredibly disappointed by this decision and we'll be considering our next steps together with the London Fire Brigade."
A spokesperson from London Fire Brigade, said: "London Fire Brigade notes the Secretary of State's decision to refuse permission for this scheme. Lambeth Fire Station is one of the busiest in London and plays a major role in keeping the capital safe. The station is in need of an upgrade and we are very disappointed that this work will now be delayed again."
The spokesperson added that LFB will now take time to consider options for Lambeth Fire Station and the LFB Museum
The site has a contentious planning history which saw a previous mixed-use proposal by Lifschutz Davidson Sandilands for Native Land rejected by Lambeth council and thrown out by a public inquiry in 2013 because of its impact on daylighting in neighbouring properties. That scheme would have created 265 flats.