New recruits will learn about engineering, plumbing, manufacturing, carpentry and design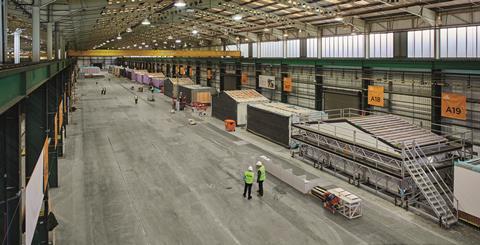 Ilke Homes, the modular homes manufacturer, is looking to drive up recruitment by offering places within its new training academy to new employees as well as existing staff.
The academy will be based next to the firm's Knaresborough factory (pictured) in north Yorkshire.
It will take on 162 new recruits who along with existing employees will learn about engineering, plumbing, manufacturing, carpentry and design.
The firm said the academy would support trainees' professional development, with a leadership course already in place offering new recruits "internal progression opportunities and a clear career path in the emerging modular housing industry".
David Sheridan, Ilke Homes' executive chairman, said: "We have a responsibility to help people from all backgrounds find employment and for too long the construction sector has sat on its hands while the skills shortage has hit crisis point.
"Creating local jobs and helping get more women and young people into the sector have to be priorities. The government has ambitious targets to build new homes and only through investment in factories will this realistically happen."
Sheridan said his firm was currently working with private housebuilders, housing associations, councils and retirement community developers to supply modular homes accredited by the Build Offsite Accreditation Scheme and backed by an NHBC warranty.
In May Ilke Homes announced a deal to build 750 modular homes for Places for People, and in June it appointed two former Crest Nicholson executives to drive through its growth plans.