Latest RICS survey shows buyer demand increasing – but at a lower rate
The housing market continued to show strong growth in October, albeit at a slightly slower rate than in the previous month, according to the latest survey of estate agents.
The monthly index from RICS found that a net balance of 46% more surveyors saw buyer demand increase than decrease, down from 52% in September and the third consecutive month in which growth has become less widespread. The measure peaked at a reading of +75% in July.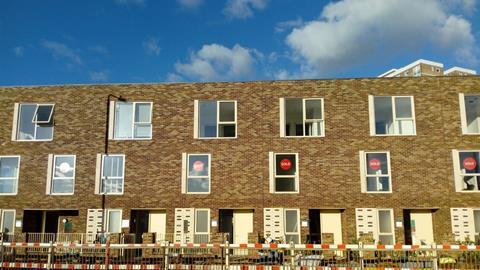 Other indicators in the monthly survey, including the number of new instructions, and sales volumes, followed a similar pattern of continued strong growth, albeit at a slightly reduced rate to previous months.
The findings support consistent data released since lockdown restrictions on the housing market were eased in May, showing a surge in sales further boosted by chancellor Rishi Sunak's temporary stamp duty holiday in July.
However, expectations for housing market activity for the year ahead remained solidly negative. While a small majority of surveyors (+17%) said they expected sales to increase further in the next three months, most said they expected sales to fall over the next 12 months.
RICS recorded a figure of -27% for 12-month sales expectations, while surveyors were almost evenly split on whether they expected house prices to be higher or lower a year from now.
The government's stamp duty holiday is set to end in March, at the same time as the furlough scheme to protect workers affected by the covid crisis.
Simon Rubinsohn, chief economist at RICS, said the survey showed most experts believed the current strong market will persist over the coming months and into the new year.
However he added: "There is understandably more caution about activity looking beyond the first quarter of 2021. Aside from the withdrawal of government incentives, the market may also find the more challenging employment picture a significant obstacle, even with interest rates set to remain close to zero for some time to come."
Tom Bill, head of UK residential research at Knight Frank, said the current second national lockdown will only put a "minor dent" in the momentum generated in the property market in recent months. He said: "Beyond the first quarter of next year, the status of a Covid-19 vaccine and the unemployment rate will be key. If news on a vaccine remains positive, demand in the London market may get stronger as patterns of behavior established during the pandemic, such as the move to the country, begin to reverse."