National Housing Federation says demand for the most affordable homes has risen
The affordable housing sector has redoubled calls for government investment to support the building of 90,000 homes at social rent levels per year following publication of a report showing intensifying demand for the product.
The National Housing Federation's "People in Housing Need" report found that eight million people in England have some form of housing need, and that an increasing number – almost four million require housing at social rent levels.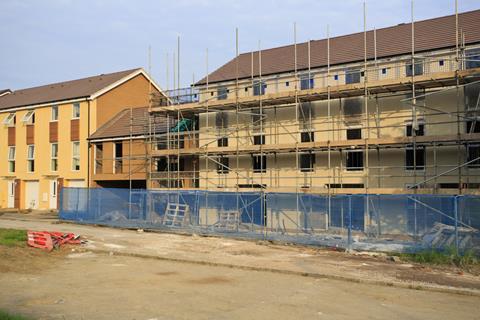 Social rent is the cheapest form of subsidised housing, with rents set at as little as a third of market rates in the most expensive areas. However, government subsidy since 2011 has focused on the building of homes for affordable home ownership or the much more expensive "affordable rent" product – both of which are suitable for people on higher incomes.
The NHF report said that 3.8m people were in need of social rented housing, up from 3.6m the year previously, within 1.6m households. This is much higher than the 1.16m households currently benefitting from social rent homes.
The report said: "The number of people for whom social rent is the most appropriate tenure to address their need has actually risen, while the number of households in this category has remained at a similar level.
"This suggests an intensifying of need at the 'sharp end' – things are getting worse for the worst off. This is reflected both in the growth in the numbers of people affected by affordability issues and in the growth in overcrowding."
The report also found that more than 3.4 million people were living in overcrowded households, a 5% increase on the previous figure, and 2.7 million were found to have an affordability issue – up nearly 10%.
It said: "Long-term investment in social housing is needed to tackle this problem and provide people with suitable homes they can afford."
The NHF has been co-ordinating the Homes at the Heart campaign, which is calling for the construction of 90,000 homes for social rent every year.
The government last week launched its £11.5bn affordable housing programme, which it says will see construction of 180,000 affordable homes over the next five years. The government has said that some of the funding will be available to build homes for social rent, but has not yet specified how many social rented homes will be built.
Also last week, the chief executives of the NHF, the Chartered Institute of Housing, housing charity Crisis; the National Federation of ALMOs, and the Association of Retained Council Housing, published a joint statement saying that construction of the homes would "change the lives of millions of people".
The letter said the positive knock-on effects of the policy would be "tremendous", adding that: "This investment would boost businesses, creating vital work that would help keep firms going and supporting as many as 86,000 jobs. In total, building the 90,000 social rented homes we need every year would add around £4.8bn to the economy."