Forecasts from top landlords contained within aggregate accounts for the sector
Housing association finances are forecast to worsen over the next five years as landlords attempt to maintain rates of housing development while ramping up investment in their existing homes, according to the social housing regulator.
The RSH said housing associations had said they were planning to increase their investment per unit in existing homes by more than 40% per year in the period, which would result in a "decline in some key measures of operating performance".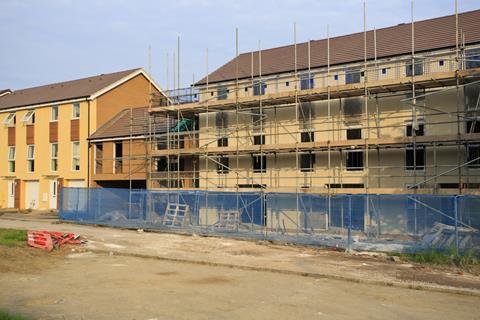 The figures comes from financial forecasts prepared last summer by the sectors' 200 largest landlords, analysed as part of the publication by the RSH of the sectors' aggregate accounts for the 2021/22 financial year.
The RSH document said that by 2027, debt levels in the sector were forecast to increase by 37% to reach £121bn, with the sector predicting it will spend £40.7bn on repairs and maintenance – up 16%, or £5bn up on last year's forecast. The forecasts were sent by providers to the RSH in June last year, prior to the mini budget and market turmoil at the end of last year which will have had a further dampening effect on forecasts.
At the same time the RSH said that projected investment in new supply will continue at around current levels, causing the expected worsening in the finances of registered providers, with the average "ebitda" interest cover for registered providers having already dropped from 190% in 2018 to 147% in 2022.
>> See also Regulator downgrades 19 housing associations citing 'weakening housing market'
>>See also: Can housing associations again keep development going as the rest of the market slows?
The "global accounts" report containing the forecast said the investment in existing stock was driven by the need to catch up following the pandemic, inflation, the requirement to improve stock quality and the drive to net zero.
It said: "The latest forecasts are consistent with a longer trend showing year-on-year increases in forecast expenditure on existing stock and consequently declining levels of interest cover."
The document said: "The sector is currently facing constrained resources and significantly increased uncertainty from the deteriorating macro-economic environment.
"Providers will need to continue to meet their core objectives and deliver in line with their strategic direction while mitigating the economic, social and financial impacts of the current environment." The publication comes after the RSH last week published a survey showing development forecasts had fallen to their lowest level for two years.
The forecasts came algonside the RSH reporting that total spend on new supply recovered in the year to March 2022 by 12% to hit £12.3bn, with 49,000 homes built. Investment in existing stock rose to a record £6.5bn, but the total underlying surpluses fell from £2.6bn to £2.4bn.