Government figures show extent of damage to supply done by lockdown build hiatus
The number of both new home completions and starts on site dropped to their lowest level in at least two decades during the lockdown, according to official figures.
The new figures, compiled by the government from returns by building control officials, suggest that the number of completions, seasonally adjusted, dropped by 62% in the three months to June on the previous quarter, to just 15,950.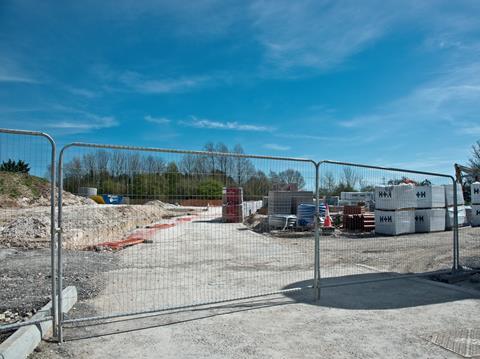 The figures also showed that starts on site fell by 52% on the first quarter of the year to a similar level, 15,930, between April and June when lockdown restrictions were at their peak. That represents an even bigger drop – of 59% - on the same period in 2019.
The sharp falls cover a period during which all the major housebuilders, barring Berkeley Group, temporarily shut all their sites, despite the government insisting construction work carry on.
The figures for starts are narrowly worse than the lowest previous figure on record, seen at the height of the global financial crisis in early 2008, while the figures for completions are far lower than previously recorded nadir. Seasonally adjusted figures go back to 2000.
The figures mean numbers for the year to June for starts and completions were also down heavily, by 25% and 15% respectively on the previous year.
However, the data has been released by government alongside heavy caveats that the figures should not be interpreted as a complete record of all housebuilding undertaken, but should be seen instead as an indicator of trends.
The housing ministry published the figures in a new form today, alongside other data also indicating trends in housing supply, after responding to consistent criticism that the data did not show a complete picture. This is because of the increasing use by developers of private approved inspectors to grant building control, who are not obliged to send the government details of the number of starts and completions they record.
The department said it estimated that the data still covered around 80% of the market. The starts and completions figures were backed by trends shown in the registration of new Energy Performance Certificates - needed when a new house is built - which fell by 56% in the April-June quarter.
Clive Docwra, managing director of property and construction consultancy McBains said the stats showed the spring lockdown had dealt a "heavy blow" to the government's target of building a million homes in the next five years He said: "The industry is now facing a double-whammy – trying to recover from the impact of covid but also suffering from the uncertainty over a Brexit deal – with investors holding off putting money into new developments until the picture on a withdrawal agreement becomes clearer."