Fall in housing work helps push construction to its first overall decline in output in 18 months
Housebuilding activity has declined for the second consecutive month, according to the latest data from purchasing managers.
In today's S&P Global/CIPS UK Construction purchasing manager's index, housebuilding activity registered a score of 49.4 for July – on an index when any figure below 50 represents a drop in output.
This figure is, however, marginally above the 49.3 score recorded for June, which was the first decline seen in two years. The index measures month-on-month changes in industry activity.
The marginal decline in housebuilding activity helped push the overall construction work index into negative territory too for the first time since January 2021, with the overall index figure for July hitting 48.9, down from 52.6 in June.
The index found that rising inflation, fragile consumer confidence and higher interest rates together caused construction output to fall.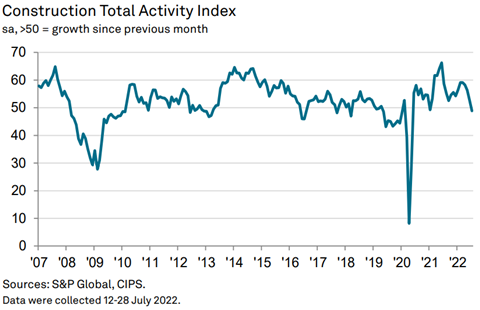 Although only marginal, the rate of decline was the fastest since May 2020 when the start of the covid-19 pandemic had gripped the country.
Mark Robinson, chief executive at Scape, said the downturn was particularly worrying given its timing.
He said: "July represents peak season for the construction sector, so a decline in industry activity undoubtedly serves as cause for concern.
"Looking ahead, it's clear that the task of filling order books is becoming more challenging, with input costs continuing to increase and developers reviewing their plans if not putting them on hold."
>>Also read: Construction trends and prices data dashboard
Civil engineering was the worst-performing segment in July, with its index at 40.1 down from 54.3 in June, with business activity falling to the greatest extent since October 2020.
Commercial work bucked the downturn seen elsewhere, with an index of 52.3 in July, although growth was the weakest for 18 months.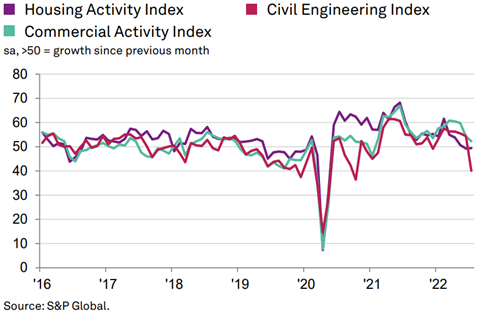 Tim Moore, economics director at S&P Global Market Intelligence, said all this had led to a level of optimism well below those reported earlier this year, with recession concerns, the cost-of-living crisis and lower levels of consumer confidence all being contributing factors.
He said: "Expectations for output growth in the next 12 months are far less exuberant than those seen over the past two years, amid concerns that elevated inflation and higher borrowing costs will constrain demand. Nonetheless, the degree of construction sector optimism picked up slightly since June, which ended a five-month period of falling confidence."
On a positive note, there was an overall rise in new orders for the 26th consecutive month but the latest upturn was notably weaker than what was seen in the first half of 2022.
As a result, some construction companies cited a lack of new projects to replace completed contracts.
Meanwhile, improvements in the availability of some materials meant that supplier delays were the least widespread since February 2020.
Purchase price inflation also eased considerably with the index at 78.1, down from 85.8 in June.
This represented the least marked rise in cost burdens since March 2021, with firms saying upward pressure on business expenses from higher energy, fuel and transport costs was partly offset by some easing in commodity prices, especially for metals and timber.