Value of UK listed housebuilders falls by around £1bn in early trading as government outlines further contributions
Housebuilder share prices have fallen sharply on the confirmation by government this morning that it expects the sector to contribute £4bn to pay to repair unsafe cladding in the wake of the Grenfell Tower fire.
The value of the five largest listed builders all fell by at least three per cent in early trading in London today, with Persimmon at one point more than 4% down on its closing price last Friday.
The falls wiped in the region of £1bn off the value of major listed builders, with Persimmon's value dropping by more than £300m alone.
The falls came after the government said over the weekend that it wanted residential developers to contribute £4bn to remediation works on buildings of between 11-18m in height with unsafe cladding.
The government said that it was still working out the details of the plan, but that it was likely to expect all developers with profits of more than £10m to contribute to a fund.
After initially falling back sharply, housebuilder share prices recovered slightly, with the top five – Barratt, Persimmon, Taylor Wimpey, Bellway and Berkeley Group – all down between 2.5% and 3.5% as Housing Today went to press.
While the contributions to the fund are voluntary at this stage, the government threatened to use legal action, procurement policy, planning powers and, if necessary, new law to force developers to contribute.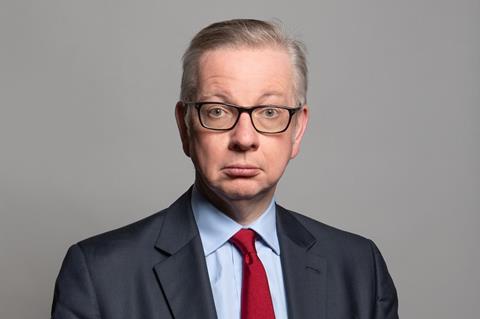 Housing secretary Michael Gove (pictured) is set to convene a series of roundtable meetings with the 20 largest developers and trade associations in order to thrash out the details of the sector's contribution by March, prior to other measures being considered.
This is despite the fact the major listed builders have already set aside around £1bn to pay for remediation works.
The vast majority of the housebuilders included in Housing Today's Top 35 listings published last month reported operating profits in excess of £10m, despite the figures covering the covid period, with just six making less than that.
See also: Housing Today's Top 35 housebuilders: exclusive data and analysis
Further details and clarification are expected in a ministerial statement by Gove in Parliament today, but it appears the £4bn voluntary fund announced today will be in addition to the £2bn developer levy already set to come into effect from the next financial year. This tariff will be set at 4% and apply to profit from residential property development activity above £25m annually.
The government is also planning a new levy on the development of new high-rise buildings, the details of which have not yet been finalised.
In advance of his House of Commons statement, Gove said: "It is neither fair nor decent that innocent leaseholders, many of whom have worked hard and made sacrifices to get a foot on the housing ladder, should be landed with bills they cannot afford to fix problems they did not cause.
"Government has accepted its share of responsibility and made significant financial provision through its ACM remediation programme and the Building Safety Fund.
"Some developers have started doing the right thing and funded remedial works and I commend them for those actions. But too many others have failed to live up to their responsibilities.
Stewart Baseley, executive chair of the Home Builders Federation, said that any further solution to the problem must be "proportionate, and involve those who actually built affected buildings and specified, certificated and provided the defective materials on them."