Government declines to confirm or deny report that ministers planning to extend £16bn buyer subsidy
Shares in housebuilders rose sharply yesterday following reports the government is planning to extend the Help to Buy scheme with an announcement possible as early as Friday.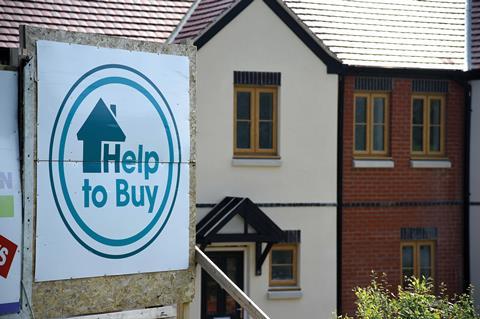 Shares in the UK's largest builder, Barratt, London giant Berkeley and rival Bellway all rose by almost 5%, on a day that the FTSE 100 share index was up just 0.4%.
The second and third biggest housebuilders by volume, Taylor Wimpey and Persimmon, also both posted strong share price gains of between 2-3%.
The Help to Buy scheme supports sales to those without large deposits by offering buyers a 20% equity loan to help their purchase. Since its inception in 2013 it has helped 224,000 households buy a new build home, supporting sales worth almost £75bn, at a cost of £16bn.
The Financial Times yesterday reported that ministers were drawing up plans to extend the Help to Buy scheme beyond its December cut-off date for new sales. The newspaper reported that "three government figures" confirmed that Whitehall discussions were taking place to resolve the issue, with an announcement was expected as early as Friday, but that the precise details were yet to be finalised.
Housebuilders have in recent weeks been calling for an extension to the scheme, which is due to end in its current form in March next year, to help the industry cope with the fallout from the covid crisis. The three-month processing period for applications required by Homes England means that qualifying buyers will have to have completed the purchase of their house by the end of December.
Housebuilders have informed thousands of buyers that covid-related delays in build programmes mean that purchases that would originally have benefitted from the government assistance will now not be able to complete in time because homes will not be finished.
Housebuilders are also concerned that a three-month hiatus in sales under Help to Buy prior to the new, more restricted scheme starting in April, will hurt housebuilders already battered by the drop in revenue following the coronavirus lockdown. While estate agents have reported strong demand since the market re-opened, the Construction Products Association has predicted that new starts are nevertheless set to drop by as much as 60% this year.
Help to Buy is used in a significant proportion of sales made by listed builders, with Persimmon last year reporting that 43% of sales used the scheme.
The Home Builders' Federation has estimated that 18,400 sales will fall unless the scheme is extended, with 7,700 of those sales from buyers who will not be eligible to qualify under the new version of the scheme in April.
An industry source said that the housing ministry had been convinced of the need to extend the scheme – which already has funding allocated – for some time, but that the Treasury had not yet been persuaded. However, the source said: "The tone of discussions with officials has certainly changed in the last week and it's now much more positive."
The housing ministry declined to confirm whether or not ministers were working on an extension to the current Help to Buy scheme, or how long any extension might last. A spokeswoman said: "The government continues to work closely with all parts of the housing industry to understand the challenges and opportunities they face."
Barratt earlier this month called for government action to extend Help to Buy, particularly given the decline in the number of mortgages available to people with small deposits since the onset of the covid crisis. Karl Hick, group chairman of regional builder Larkfleet, said last week said the industry needed to work together to urge the government to extend the Help to Buy scheme. Failing to extend it, he said, would be "disastrous for the housebuilding industry, the economy and people desperate to buy a new home – and would derail the government's recovery plans."