However, first official data for the month shows prices up 8.6% year-on-year in the month
House prices remained flat in the UK in February, according to the latest official figures from the Land Registry. The lack of change left annual house price inflation up at 8.6%, following the surge in prices seen in the wake of the spring 2020 lockdown.
The figures reflect activity prior to the chancellor's announcement on 3 March of an extension to the current stamp duty holiday for homes under £500k in value, and of the introduction of a mortgage guarantee system to support 95% loan to value mortgages.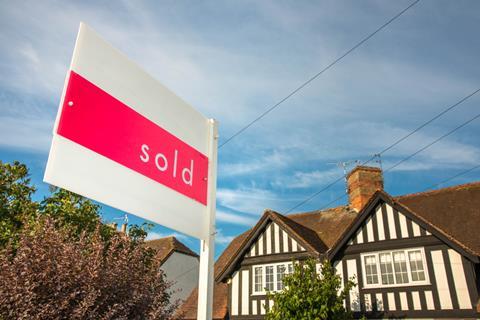 Despite the lack of an overall UK change, prices did rise marginally in February in England alone, by 0.2%, and as much as 1.3% in the North-west, the strongest performing region. Year on year, price growth was lowest in London, at just 4.6%, and highest in the North-west, at 11.9%.
Separate housing transaction figures from HM Revenue & Customs covering March, but also released today, demonstrate the strength in the market following the chancellor's stamp duty cut last year.
Seasonally adjusted transactions were up 102% on the same month in 2020 to 190,980 – more than double last March and a third up on the already high figure in February.
HMRC said the number of transactions, the highest in any month in at least a decade, had been affected by the expected cut-off to the stamp duty holiday in March, which led many surveyors to aim to complete transactions before the end of the month.
Iain McKenzie, CEO of the Guild of Property Professionals, said the figures showed that Britain was in the grip of "the biggest housing upheaval since World War II, with huge swathes of the country moving home, and similar numbers building themselves an extension."
He said: "The extension of the stamp duty holiday has continued to fuel the increase in house prices, while the government's mortgage guarantee scheme will push demand higher as it attracts first-time buyers back to the market."
Iain Swatton, mortgage expert at mortgage switching platform Dashly, said the market was being further boosted by the government's mortgage guarantee scheme, launched this week. "While generation rent will welcome a new opportunity to get onto the property ladder, a lack of supply, and now the chance to borrow more money coupled with the stamp duty deadline are creating more demand, and pushing up prices.
"London has seen the slowest growth compared to other regions, but make no mistake - the property bubble hasn't burst yet."