The Royal Institution of Chartered Surveyors reports market fuelled by deepening mismatch between demand and supply
House price rises are more widespread now than at any point since the 1980s housing boom, surveyors have reported.
The Royal Institution of Chartered Surveyors has also warned that purchase enquiries are outstripping new sales instructions leading to a large "mismatch" in supply and demand.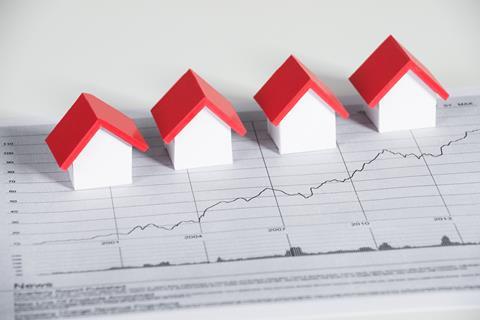 The latest RICS UK Residential Market Survey for May reveals 83% of surveyors have seen price rises over the last three months - the highest figure since August 1988, almost 33 years ago.
This is up from 76% in April and is the fourth successive month in which the figure has risen.
The figures come after the Bank of England's chief economist Andy Haldane this week described the housing market as "on fire" following figures from mortgage lenders showing prices are now around 10% higher than at this point last year.
The RICS said net monthly enquiries are also in positive territory for the third consecutive month with a net balance of 32% of survey respondents noting an increase.
However, sales instructions appear to be dwindling with a negative balance of -23% of surveyors noticing an increase in the last month, pushing the gap between new buyer enquiries and sales instructions to its widest for eight years.
The increase in demand appears in part to have been fuelled by the extending of the government's stamp duty holiday to 30 June. The Stamp Duty holiday, introduced as one of several measures to boost the market during the pandemic, means that there is no Stamp Duty Land Tax (SDLT) paid on homes with a value of up to £500,000. Ordinarily the threshold is £125,000 or £300,000 for first time buyers.
However Simon Rubinsohn, chief economist at RICS, said demand will continue to remain high even after the stamp duty holiday deadline.
He said: "Ending a tax break always has the potential to be a little disruptive for a market but with the economy performing better than could have been expected even a short while ago and the cost of money still at rock bottom levels, the principal drivers supporting demand will remain in place even after the expiry of the stamp duty holiday.
"More challenging is the question of supply, a theme coming back strongly from respondents to the survey both with regard to the sales and lettings markets."
The survey does however show more surveyors reporting an increase in market appraisals year-on-year with a net balance of 24% of surveyors reporting an increase. This suggests more instructions and sales could be coming down the line.